World Quality Day 2014
November 13, 2014
Some of you may or may not be aware, but today is World Quality Day. Throughout the world, World Quality Day is celebrated annually on the second Thursday of November.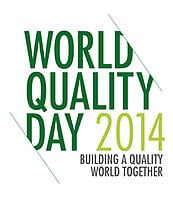 World Quality Day was introduced by the United Nations in efforts to increase the awareness and emphasize the importance that quality makes towards economic growth and prosperity within nations and organization. This year's theme is "Building a Quality World Together".
Within organizations quality improves product, reduces cost, and delivers competitive advantage. Throughout the world, it has the ability to save lives, improve the environment, and save companies millions. Quality of treatment and care can save those who are currently suffering from Ebola. Quality of air can improve the longevity of life by reducing respiratory problems while improving the environment. Quality of product can also save the lives of those in the medial field and local law enforcement agencies who rely upon those products to serve and protect.
iCONN Systems, LLC focuses on quality every day through our design, products and customer service. Our six step Custom Engineered Solutions Process ensures that our high quality standards are included in every product we design. We are also an ISO 9001:2008 certified company.
If you would like more information on how iCONN's quality process enhances your product please visit our Quality Department page.