Assembly Magazine is a subscription trade magazine that focuses on assembly decisions and solutions related to taking discrete parts and turning them into finished products.
---

In their October 2014 issue, Assembly Magazine featured iCONN Systems in an article that discusses the history of iCONN, where we are today, and offers brief insight into our future. The magazine article also discusses details of our cellular manufacturing process and our vertically integrated equipment, which allow us to remain competitive and set us apart from the competion.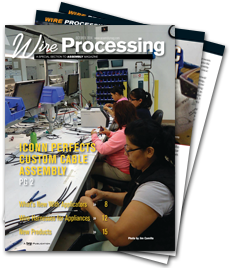 Download the article here!
Assembly Magazine is hosting The Assembly Show in Rosemont this week, and a copy of the magazine will be distributed to attendees.
---

iCONN Systems is an engineered interconnect solutions partner. We develop and manufacture connector and cable assemblies at our manufacturing facility located in Lombard, IL. Check out iCONN System's Custom Engineered Solutions and see what we can do for you!
---