The Strategy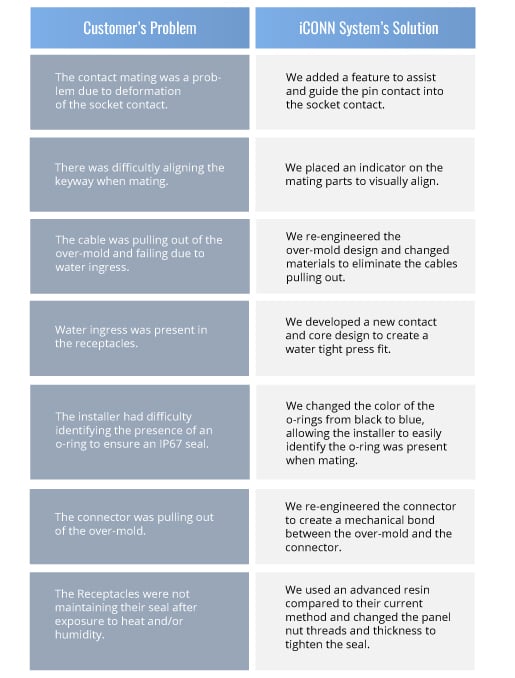 In addition to re-engineering to alleviate our customer's quality issues, we were able to go above and beyond expectations by offering enhanced design options, improved pricing, an inventory stocking program and better delivery options than they were receiving with their supplier.
Design Features Attained Through Re-Engineering
Enhanced Design Features:
We re-engineered the coupling nuts to make it easier to fully engage the coupling ring.
We specified a lower cost cable construction that was more flexible and easier to install.
Pricing:
Through our re-engineering efforts we were able to significantly reduce all pricing while enhancing service, quality, delivery and all warranty issues.
Inventory:
We developed a customized Kanban program to stock assemblies at our facility for same day shipment availability. This program factored in appropriate quantity to mitigate risk of excess inventory.
Results
Not only was iCONN Systems able to create a design that was reverse-compatible and inter-mateable, but we were able to utilize our customer's current inventory to eliminate any E & O inventory from the changeover. iCONN also worked closely with our customer's purchasing and engineering departments on collecting all the requested information and testing to ensure a smooth transition to iCONN's advanced product. Months after iCONN System's product was being used, during a site visit with our customer, their employee responsible for warranty claims approached us to shake hands and thank iCONN Systems for making his job easier.