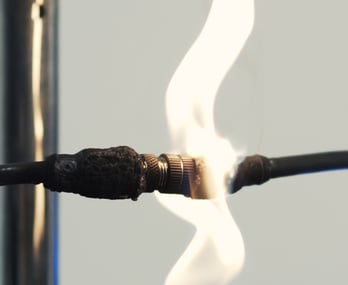 At iCONN Systems, we combine advanced rapid prototyping technology with a maverick team of design and manufacturing engineers to overcome the most extreme environments on the planet, including applications that involve direct exposure to flames and temperatures as high as 260⁰C (500⁰F). Let's take a closer look at how we carefully select materials for molded cable assemblies in high-temperature applications (environments that exceed 60⁰C (140⁰F). Bring on the heat!
Cable Assembly Parts
First, it's important to understand the parts of a cable assembly involved in increasing its temperature threshold. Without the right design elements, rising temperature can cause a cable assembly to burn, melt, and malfunction, which can quickly lead to serious damages and safety issues.
Cable Jacketing: A cable's jacket is the first line of defense against environmental influences. Its job is to protect the internal components of an assembly, including the cable insulation and conductor core. Common cable jacketing materials found in high-temperature applications, include silicone, PVC, CPE, and Teflon.
Electrical Insulation: A cable's insulation material inhibits the flow of an electrical current, prevents contact with other conductors, provides electrical leakage resistance, and, in some cases, hinders electromagnetic interference (EMI/RFI). You can learn more about this topic in our whitepaper: Maintaining EMI/RFI Shielding in Electrical Connectors. Insulation also prevents the transfer of heat, making it a vital component in high-temperature applications. Materials for high-heat applications generally consist of:
Mineral/glass-filled polyamide (PA)
Glass-filled polybutylene terephthalate (PBT)
Polyether ether ketone (PEEK)
Polytetrafluoroethylene (PTFE)
Polyphenylsulfone (PPSU)
Liquid Crystal Polymer (LCP)
Why Fiberglass? Fiberglass can endure temperatures as high as 482⁰C and withstand exposure to open flame. Plus, it offers moisture- and chemical-resistant properties. As such, fiberglass insulation is a common component of cable assemblies in high-temperature applications, including furnaces, ovens, iron mills, and other heating equipment.
Cable Connector (and hardware): A cable connector is a mechanical piece of hardware that adjoins the end of a cable to a port or interface within an electrical system. Connectors consist of electrical contacts and seals to ensure a proper, reliable bond. When choosing a connector material for high-temperature environments, be sure to select a product that won't lose its spring capability when exposed to heat — for example:
Nickel Alloy
Stainless Steel
Copper Alloy
Inconel
Overmolding: Overmolding is a material used to encapsulate and permanently adjoin a connector to a cable, resulting in one single, seamless product. As another "front-line" element similar to a cable's jacketing material, the overmolding material you choose is extremely important to the temperature resistance of the assembly. High-heat overmolding materials include:
Glass-filled PBT
Glass-filled PA (Nylon or polyamide)
High-Temp Materials Are Expensive
It's important for product teams to note that, due to their performance-enhancing qualities, high-temperature materials are more expensive than other materials. For this reason, we always recommend choosing materials that exceed your threshold operating temperature. The last thing you want is an expensive piece of equipment "burning out" before its required shelf life.
When it comes to cable assemblies in high-temperature applications, partnering with a value-added manufacturer is key. iCONN Systems, Inc., actively seeks opportunities to enhance product design and delivery, extend the shelf life of our products, and provide the maximum ROI possible to customers across the US. Our warehouse and distribution center in Lombard features a variety of specific stocking programs to meet unique customer needs. We also partner with organizations in strategic global, low-cost regions to reduce the cost of labor-intensive, high-volume orders. From durability and ergonomics to tactical performance and aesthetic appeal, we provide the value necessary to assure your success.
Download our whitepaper on molded cable assemblies in high-temperature applications to learn more!