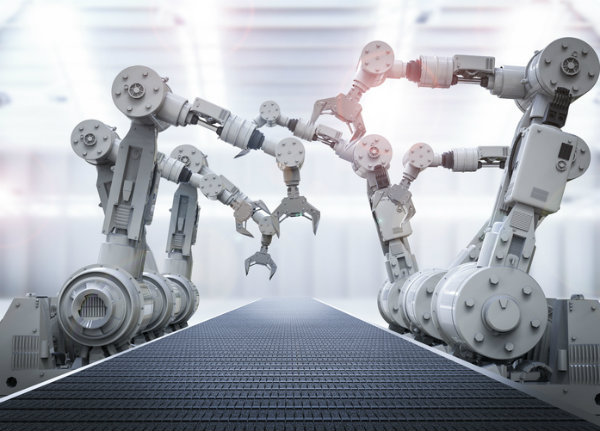 With as many as 1.3 million industrial robots expected to enter service by 2018, the new workforce looks like something out of a sci-fi movie—a collaboration of people and robots working together with unprecedented precision. Commonly referred to as collaborative robotics, robotic co-workers or "cobots," they are completely reshaping how industries operate.
Collaborative robots are equipped with flexible arms and hands, parts feeding systems, camera-based part location technology, and sophisticated robotic controls capable of handling everything from the tiniest assemblies to applications that require significant force. Inside each beautifully designed bot is an intricate configuration of sensors, wires, connectors and cables, the likes of which must be capable of withstanding the constant bending and flexing of human-like movement.
Cable assemblies within robots are also more complex to allow for movement around multiple axes. If connectors and cable assemblies don't fit perfectly within the robot's infrastructure and routinely fail, quality, consistency and operational efficiency suffer. That's why the most successful robotics manufacturers partner with leading cable assembly and connector engineers to custom create the exact connectors and cable assemblies required for their life-like bots.
iCONN Cables & Connectors for Robotics
iCONN Systems engineers and manufactures custom, highly sustainable, flexible connectors and cable assemblies for robotics and automation applications. We offer a cable for power or signal in robotics applications with a 20 million cycle flex life and torsional rolling, variable, bend and continuous flex. This cable is rated for high and low temperatures, and is cold-bend tested to maintain flex at temperatures as low as -50℃. It's also flame, oil and chemical resistant, making it an ideal fit for robotics performing in harsh environments.
i8 (M8) and i12 (M12) Connectors for Robotics
We also manufacture durable connectors that meet the demands of collaborative robotic applications. The i8 connector has a tiny profile, but its size does not reduce durability, making it a desirable fit for robotics applications with spatial demands. The i12 connector is customizable, and features a variety of configurations involving materials, cables, keying and contact size.
Both the i8 and i12 connectors are constructed of high-tech polymers, brass or stainless steel, and threaded or quick-connect (snap-lock) couplings. They are rated for up to 300V and designed with straight or right angle overmolded plugs. Each connector is built to withstand strain, protect against dust or liquid ingress, and is in compliance with RoHS Directives.
True innovation is more than skin deep. When it comes to robotics, don't risk your entire project on off-the-shelf connectors and cable assemblies that may not survive the rigors of constant movement. Bring in the experts and custom fit the exact internal components to uphold quality, dependability and ingenuity. Not quite sure where to start? Download our Buyer's Guide.