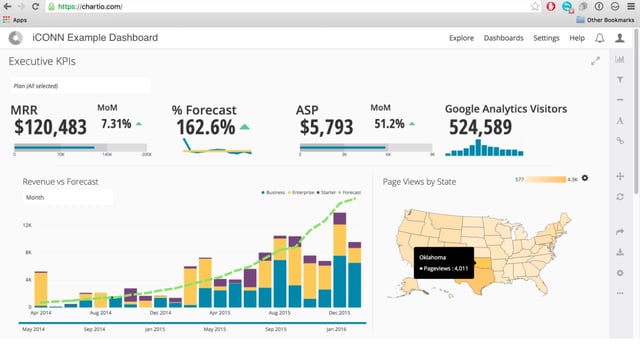 iCONN plans to double in size over the next five years, and our old reporting software is not going help us get there. To maintain the quality and service levels that differentiate us in the market, we needed to revamp our current Business Intelligence (BI) infrastructure. Finding a solution that would scale with us, without the growing pains was key, and a proactive search led us to choose Chartio.
Nine months ago, fed up with our current reporting software I began researching options. Our current solution was clunky, seldom worked, and the customer service was borderline non-existent.
Like many growing companies, we found ourselves urgently wishing we implemented an agile BI strategy from the beginning. Agile BI, for us, means a self-service solution that allows anyone to:
Explore data with confidence

Maintain data infrastructure to adjust as we grow —

without interruptions or affecting data quality.
Before, with less teams having access to data, a lack of one central place for everyone to explore data was workable (but not ideal). However, as our company grew — adding more data sources, and increasing data requests — things got messy. Without one source of truth, confidence in reported numbers began to wane. We could not be sure if all the data, from a few disparate data sources, was inclusive.
With the current state of our data, we reacted to reported metrics. Our goal to proactively explore and test new solutions was not realized. It was evident that we had to make faster decisions on live data in order to hit our growth goals.
I took the initiative to search for alternative solutions with the hope of trustworthy and easy to create reports. History has a tendency to repeat itself, and we did not want to invest in another sub-par BI solution.
After researching our options and sitting through demos with IT, we decided on Chartio as the best fit. Chartio provided an agile solution that everyone could use. Their on-boarding team was fantastic and extremely attentive to our needs and concerns.
Chartio connected our databases during a free trial, and their team showed iCONN how quick it was to create useful reports. Within minutes, I was creating charts that in the past would have taken me days.
---
Chartio gives me — someone with ZERO SQL knowledge — the ability to build beautiful charts that provide a high-level perspective, while still being a workhorse for analyzing large data sets.

---
We were a little shocked by the price at first – but with an extensive trial we determined that the time-savings, and minimal IT support would more than cover the expense.
I have an extra 15 hours per month, thanks to Chartio, to focus on more value-added activities. Gone are the days of fact-checking reports and using a not-so-intelligent BI solution.
If you are interested in learning more about how to implement agile BI in your organization check out Chartio's blog post here.
---