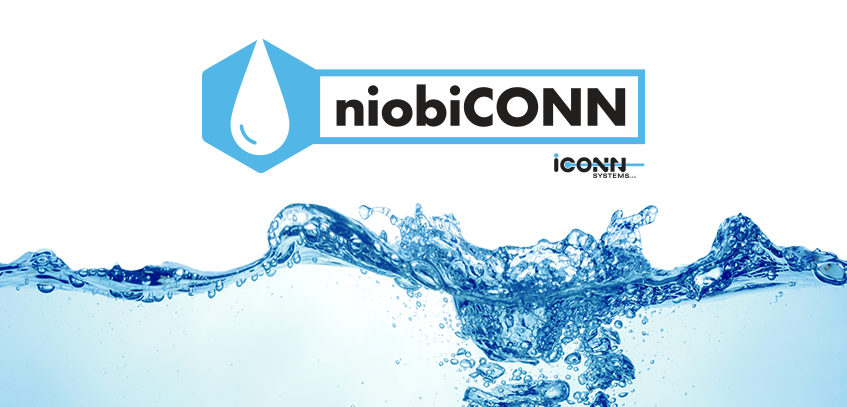 NiobiConTM Technology has completely changed the cable and connector game, especially for electronic applications that are underwater or in wet locations.
Knowing that this technology exists is one thing, but product teams also need to understand which type of niobiCONNTM connector is best for their products and applications. As one of the nation's leading interconnect manufacturers, we offer a range of niobiCONNTM interconnect solutions, including custom and off-the-shelf product lines. Here's what you need to know to make the right selection for your next project.
When to Choose Off-The-Shelf niobiCONNTM Connectors
Off-the-shelf cable assemblies and connectors are readily available and typically less expensive than customized solutions, making them an ideal choice for product teams under time or budget constraints. Because off-the-shelf products are standardized, they're often used for commoditized applications but may suit a variety of different products, environments, and design requirements.
octiCONNTM Standard niobiCONNTM Connector Series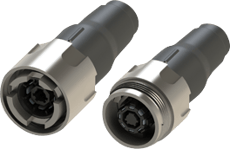 iCONN Systems produces a standard niobiCONNTMconnector line called the octiCONNTM series, with assemblies rated for up to 60VDC/2A. The octiCONNTM series is configurable with up to eight different positions to meet a wide range of applications.
Standard features include:
Suitable for use in air, saltwater, and freshwater
Threaded coupling mechanism
Robust blind-mating keying system
500+ PSI pressure rating
Hardware options, including nickel-plated brass, 316 stainless steel, and titanium
Thermoplastic urethane overmold
Sizing limitations - 1.5" OD, straight overmold
When to Choose Customized niobiCONNTM Connectors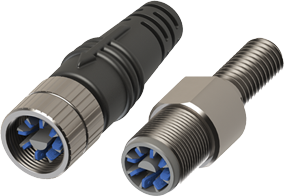 Products with unique requirements, especially those related to the design or application environment, more often benefit from customized electrical assemblies that are engineered to meet their exact specifications. While customized solutions require more time to design and manufacture, rapid prototyping ensures that the development process runs efficiently and that the end-product performs as intended. Particularly when designing a product for harsh environments, an off-the-shelf connector may not hold its value and could result in failure, damage, injury, or worse. For this reason, we recommend contacting us for a consultation and we will review your performance, environmental, and application requirements together and provide a recommendation on which route would be the most beneficial to you given your requirements.
Custom niobiCONNTM Connectors and Cable Assemblies
The patented NiobiConTM Technology is application-specific, meaning it's customizable to meet most application requirements. Custom niobiCONNTM interconnects are rated for up to 60VDC and contact sizing is scaled according to your amperage requirements. Other custom features include but are not limited to:
Infinite connector shapes and sizes
Numerous position configurations
Custom latching/coupling mechanisms
A wide variety of overmolding materials and metal hardware
iCONN Systems, Inc. works as an extension of your engineering team to efficiently and collaboratively accomplish your goals. Through advanced software applications, prototyping technology, and decades of experience, we offer a fast turnaround on prototypes and production to ensure speed-to-market never compromises quality or value.
Learn more about our octiCONNTM Series and niobiCONNTM Custom Solutions: Niobium Wet-Mate Connectors.