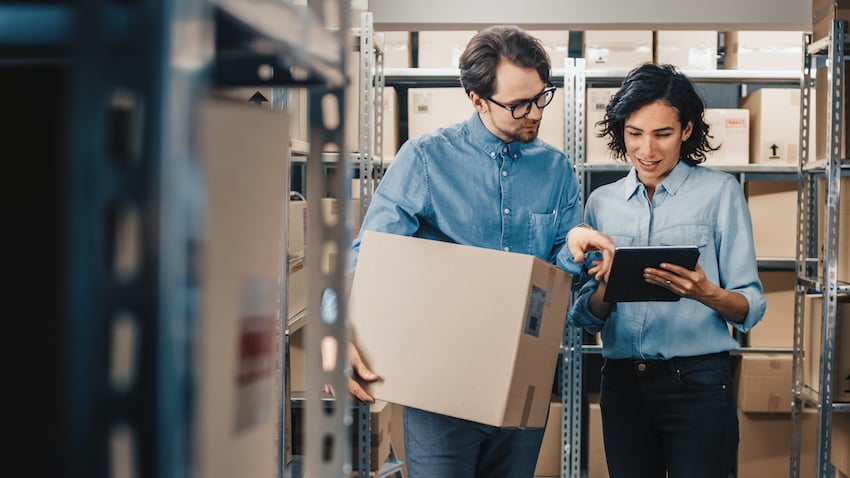 Remember when ordering a product online meant never quite knowing when the package would arrive? Today, distributors like Amazon and UPS can tell you precisely where a package is in transit, what day it will be delivered, and even at what hour—all thanks to a technology you've probably never heard of: GLS tracking.
What is GLS Tracking?
GLS stands for General Logistics Systems, a network of technologies that are widely used by manufacturing and distribution companies to track outbound packages. Beyond providing manufacturers with crucial visibility over the entire delivery process, GLS tracking is a value-added service that keeps customers in the know about when to expect delivery.
How does GLS Tracking work?
GLS tracking depends on three key technologies:
A small label with a unique 2D barcode is affixed to every package tracked by the system.
A mobile handheld scanning device all distribution and transport touchpoints use to scan the 2D barcode.
A sophisticated software system (aka, the GLS) receives the scanned information in real-time.
Once a package is scanned into the system, customers can use a tracking number associated with the 2D barcode to monitor every transaction that takes place as the package travels from the distribution center to its destination.
What happens after delivery?
Once the package arrives at the destination, the carrier scans the barcode and transmits information to the GLS, which triggers a notification confirming that the package was successfully delivered (including the time of delivery).
What information does GLS technology transmit?
Estimated delivery date
Estimated delivery time
Package shipment origin
Destination information
A timeline of each distribution touchpoint
The delivery status
A delivery or attempted delivery timestamp
What if the customer is required to sign but misses the delivery?
The truck driver still transmits information to the GLS to maintain the parcel's timeline, but instead of scanning the 2D barcode, they scan a "delivery attempt" slip with an ID track associated with the package's barcode. The slip is left at the destination site to inform the customer of the attempted delivery without affecting the accuracy of the parcel's whereabouts.
As a sender, what are the benefits of GLS?
GLS tracking gives you the assurance that the package has been registered and is safely in the system where it can be monitored from start to finish.
GLS tracking helps prevent misplaced packages, identifies when and where damage occurred, and makes locating missing packages quick and easy.
The GLS supports seamless collaboration between internal and external staff to reduce miscommunications and errors. Tracking transit details can also help prove negligence, allowing you to hold a particular subcontractor responsible for losses.
For manufacturing and distribution companies that have adapted their processes and quality controls to leverage GLS tracking, there is no room for electrical failure. That's why leading GLS developers entrust iCONN Systems, Inc. with their connector and cable assembly needs. All iCONN products are designed and tested by expert engineers and proudly manufactured in the USA. Additionally, our quality management system (QMS) is ISO 9001 certified, meaning we meet the highest standard for quality nationally and internationally.
Learn more about our quality cable and connector engineering services.