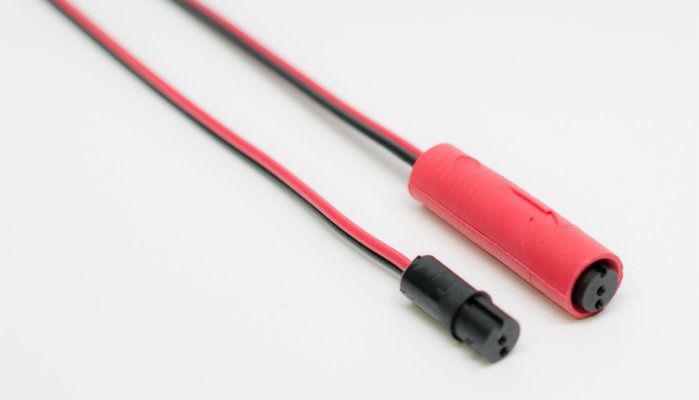 Overmolding or overmolded cables are full assemblies that combine the wire and connector into one single, seamless piece. To do this, the cable assembly is placed inside a mold. Next, a molten plastic material is injected into the mold cavity. Once the plastic material cools and solidifies, it conforms to the shape of the mold and encapsulates the junction point between the connector and wire.
What are the benefits of overmolding?
Collectively, all the advantages of overmolding boil down to two things—greater lifespan and reliability. Overmolding shields internal components, fortifies protective qualities and helps cable assemblies survive in even the most rugged environments. By overmolding your cable assemblies, you will:
Increase the flexibility at the cable exit, where most of the movement between a cable and connector takes place
Provide resistance to abrasion and shock or impact
Make cable assemblies tamper-proof by encapsulating components beneath a sealed resin
Provide 360-degree strain relief and increased pull strength
Create a water-resistant or water-tight seal that qualifies cable assemblies for IP certification
Improve the overall quality, appearance and feel of cable assemblies Replace the need for expensive metal backshells
Simplify installation by creating a one-piece assembly with keys that act as visual indicators to assist in the mating of each pair
Less subjective to human error
Customizations
The less obvious advantage of overmolding your cable assemblies is the level of customization that can be applied. While it is possible to overmold existing assemblies, you can also create a unique product that perfectly meets the requirements of your application. Customizable components include:
The overmold color, which can be strategically chosen to color code assemblies, complement brand colors, match the cable jacket or blend in with equipment
The presence of a logo or company name on the overmolding
The presence of flanges, which can be used at attachment points
The design, which is available in straight, right-angle or any other exit required to meet the needs of your application
LED indication lights, which decrease repair times by making bad connectors easy to locate
The material used, such as thermoplastic polyurethane (TPU), polyvinyl chloride (PVC), polypropylene (PP), polyethylene (PE), Santoprene (TPV), or acrylonitrile butadiene styrene (ABS)
Common Applications
Overmolding is ideal for cable assemblies that will face extreme weather, high-pressure wash-downs, constant sanitation, frequent strain and flex, exposure to dust or debris, or must be as aesthetically pleasing as they are reliable. The most common applications in which overmolding is used include solar energy, military equipment, consumer electronics, medical equipment and industrial/OEM applications.
The right manufacturer will have the capacity to provide the complete customization of overmolded cable assemblies, as well as high volume, quick turnaround production.