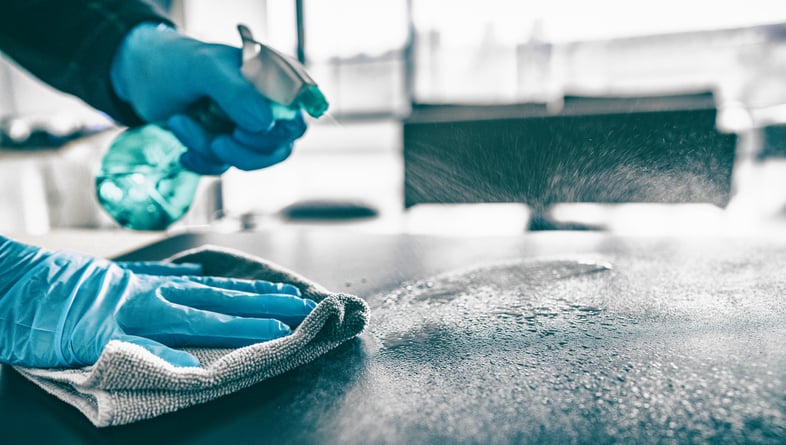 U.S. workplaces closed out the year with a whopping $3.8 million in health violations for noncompliance with COVID-19 mandates, proving once and for all that workplace cleanliness isn't just important, it's vital to business continuity. If your organization is still struggling to get its cleaning protocols up to code, it's time to rethink the plan. From plan development to implementation, this checklist will help ensure that your cleaning initiative is easy, actionable and highly adaptable.
Part 1: Plan Development
Make a chore list. Determine what to clean (removing dust, grime or clutter) versus what to sanitize (killing bacteria and viruses, reducing the spread of germs).
Assign cleaning priority levels. High-touch/high-traffic areas should have a higher priority than storage rooms or equipment that rarely gets used.
Create step-by-step cleaning guidelines, including:

How to clean or disinfect surfaces, spaces and equipment, including what cleaning products should be used.
When and how often areas should be cleaned or disinfected.
Which staff members are responsible for cleaning and sanitizing areas.
Who is responsible for enforcing the guidelines.

Provide specific instructions for cleaning and sanitizing equipment and electronics. Consider putting wipeable covers over control panels and keys to make sanitizing easier and to prevent damage to internal components. Always follow the product instructions in accordance with manufacturer recommendations.
Note: Be mindful when using chemical cleaners on electronic equipment, as some cleaners can damage surfaces.
Make cleaning quick and easy. Set practical expectations, provide simple directions, and make the resources needed to complete the task accessible. The easier the task is to perform, the more likely employees will conform, resulting in a clean workplace.
Assess cleaning resources and inventory levels. The consistent implementation of a new cleaning policy will depend on available resources, such as cleaning tools, products, and PPE. A well-defined and documented plan will help clarify what and how much to order and help avoid cross-contamination.
Part 2: Tips For Implementation
Document and distribute the cleaning plan to all managers and employees. This should include a cleaning schedule, checklist and sign-off sheet that clearly indicates:

What to clean or sanitize
When and how frequently
How to do it
Who is responsible for cleaning and sanitizing
Who is responsible for signing off on the cleaning schedule
Communicate expectations. Make sure everyone understands their role and place an emphasis on the importance of safety, employee health and a clean work environment for employees.
Kick-off the new policy by decluttering workspaces. The more organized the environment, the easier it will be to maintain cleanliness and sanitation.
Nurture a culture of cleanliness. To establish a mindset around health and safety, it's important to promote policies throughout the year (not just during roll-out).
Set up cleaning and hand-sanitizing stations near high-traffic areas.
Hang signs and posters to remind employees about healthy habits.
Implement a point system to hold supervisors and employees accountable.
Beyond preventing the spread of illnesses and avoiding costly fines, plenty of research proves that a well-organized, clean office environment increases productivity and employee satisfaction, reduces on-the-job injuries, and ultimately saves U.S. employers billions of dollars annually in sick days and paid leave. Regularly cleaning equipment and electronics will also extend the life of expensive assets by preventing the buildup of dust and grime, and encouraging routine inspections. Cleaning and organization are a vital part of an office's success.
Learn more maintenance best practices from an industry-leading manufacturer.