A connector configurator is an interactive, drag-and-drop tool that gives you the ability to design and customize even the most specialized electrical connectors with just a few clicks. Why should you care? Whether you're a product developer, manufacturer or supplier, connector configurator technology is going to solve many of your most frustrating pain points. Plus, you don't need expensive CAD software to access the magic. — just an internet connection.
The configurator software will either guide you piece-by-piece through the design process or — if you're an expert — will give you the freedom to build without prompts. Technically, users only need to enter three details for the program to crank out a basic compatible design:
Number of contacts
Required voltage
Current strength
After which point, additional parts and features can be altered, added or removed to meet the precise demands of the application.
The Benefits of Using a Connector Configurator
Simplify Design Processes
Our configurator tool shows you part options throughout the design process, but that's not all. This tool is remarkably agile. As components are selected for a design, the available options will change to show you only those that are compatible with your previous decisions.
Support Compliance Standards
Because the program only allows users to select options that are compatible with their prior choices, it's nearly impossible to accidentally select bad combinations. As compliance standards grow increasingly complex, having this safeguard in place allows designers to innovate with greater confidence.
Visualize Every Design Decision
The configurator illustrates your connector design using 3D modeling, which appears in a window next to your design options. Each time you make a selection, the 3D model is updated to reflect the change, enabling users to validate aesthetic and geometric assumptions on the spot. Turn the connector to view it from any angle. Zoom in or out. Label all dimensions, and more.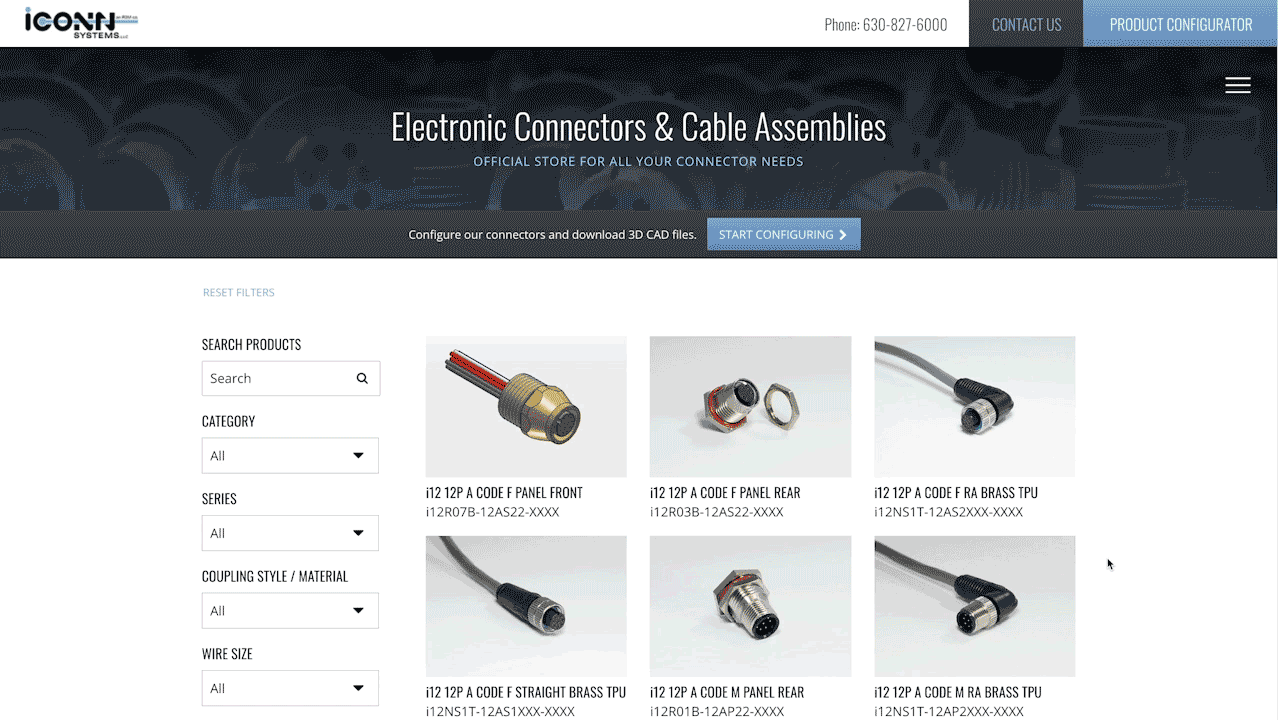 Increase Collaboration
Our configurator tool allows users to generate a CAD document or PDF datasheet with just a click to download and share with team members and partners.
Time and Cost Savings
By designing connectors faster and with less effort, meeting compliance requirements, validating visual assumptions early in the process, and streamlining collaboration between all parties, configurators save a ton of time. Time is money and rarely is that truer than in product development.
Use our connector configurator to arrive at the optimal interface solution faster and more intuitively. Harnessing digital design technology and delivering powerful creative tools to our customers is just one more way that iCONN Systems adds value to the services and experience we provide.
Try our connector configurator today
To access iCONN's configurator tool, click here and look for the blue "Start Configuration" button. Be sure to enable third-party cookies on your web browser before getting started. And, as always, don't hesitate to reach out and speak with one of our experienced connector engineers if you need extra guidance or support.