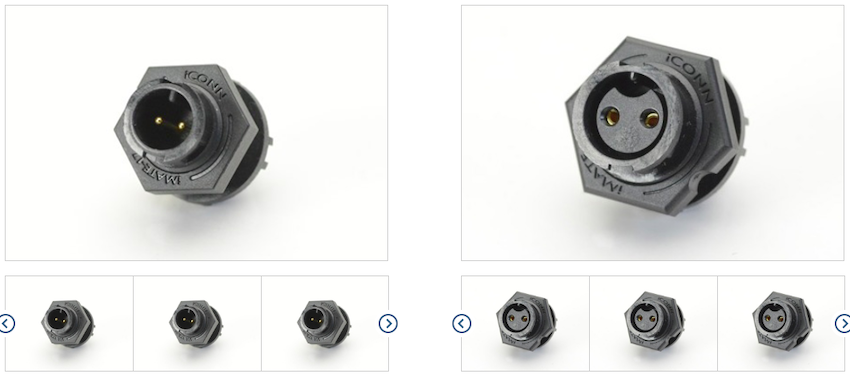 The automotive industry is one of the most sensor-dependent in the market. Every automatic control, temperature reading, check engine light or seatbelt reminder is the result of advanced sensor technology. However, like the road beneath an $85,000 Tesla Model X with autopilot capabilities, people often don't consider the means that allow such revolutionary technologies to reach their potential. Sensor technology may be one of the most essential components of an autonomous car, but without advanced cables and connectors to carry signals and data, this technology is practically useless.
As a leading manufacturer and supplier of cables and connectors for sensor technology, iCONN Systems understands the impact that even the tiniest detail can have on your overall design. With this synergetic approach in mind, we offer product teams a growing portfolio of connection components to support sensor applications, beginning with an off-the-shelf product line called the iSENSOR series.
1. i8 Connector (M8)
The iSENSOR i8 connector features a tiny profile — perfect for sensor technology applications with spatial constraints, but don't let its size fool you. This connector is IP-67 rated, capable of withstanding maximum continuous temperatures as high as 220 degrees Fahrenheit, and can be overmolded with PVC or TPU materials for flame, chemical, abrasion, grease and solvent resistance — all of which are crucial features in industrial or automotive applications.
2. i12 Connector (M12)
The iSENSOR i12 connector is similar to the i8 in terms of reliability but bigger in size for compatibility with larger wire gauges or bundles. The other significant difference between the i8 and i12 is the level of ingress protection. The i12 is rated IP-67 all the way up to IP-69K, making it the ideal choice for marine sensor technology applications and other applications involving exposure to dust or moisture.
3. Snaplock Coupling
Thanks to their coupling mechanisms, both i8 and i12 connectors can be installed and terminated quickly and easily. However, the i8 series has something the i12 doesn't: the i8 Snaplock. This connector features built-in coupling that eliminates the need for a coupling nut or jam, resulting in less labor time and overhead costs.
4. Sensor-actuator splitters
A sensor splitter allows engineers working on high-volume sensor installations to assemble two sensor signals with one i12 or i8 receptacle. In doing so, engineers can reduce installation time and the risk of human error without compromising one-to-one distribution of power or signal. Sensor splitters are available in a fixed Y or T design, or a flexible Y design and can be overmolded to withstand harsh conditions and environments.
To learn more about our advanced cable and connector solutions for sensor applications and other development specialties, download our complete product catalog.