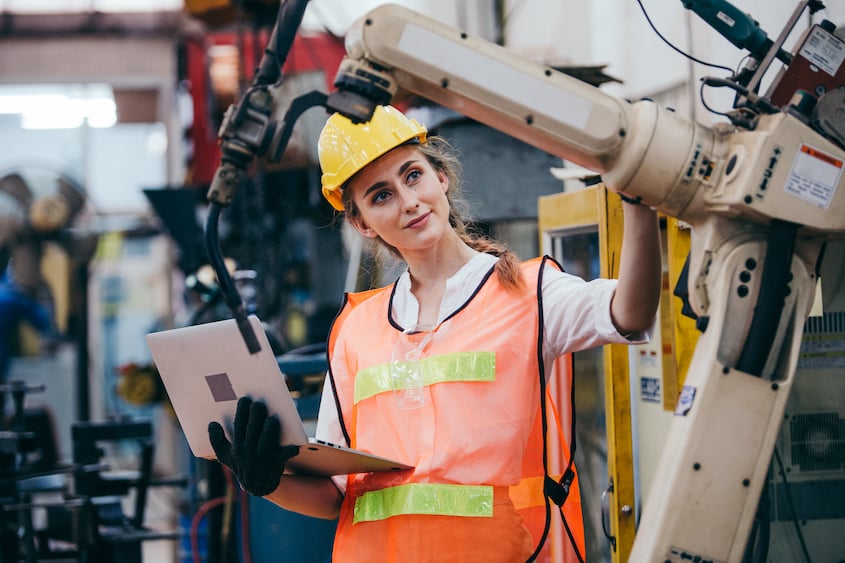 A thoughtful and thorough design process is crucial in preventing cable failure. With virtually limitless ways to configure an electrical connector, determining the right shape, size, performance enhancements and mechanical features can be a daunting and cumbersome process. Fortunately, we have a quick and easy step-by-step process to help point product teams in the right direction, including a free connector configuration tool that allows you to input design specifications and download or print a CAD file of your optimal connector design.
Step 1: Determine the type of connector you need
There are three basic connector types with numerous variations that can impact how form meets function.
In-line or "cable" connectors permanently attach to a cable for mating or unmating with another terminal (e.g., another cable or a stationary device.)
Chassis or "panel" mount connectors permanently attach to a piece of equipment, allowing users to connect a power or data cable to a stationary device.)
Board mount or "PCB" connectors are soldered to a printed circuit board to create a point for cable or wire attachment.
Step 2: Determine the shape of the connector you need.
Connectors come in two different shapes — circular and rectangular. Beyond aesthetics, the shape of a connector may seem arbitrary. However, shape impacts performance, reliability and lifespan in often overlooked ways.
Generally speaking, circular connectors are ideal for rugged environments, especially those that involve turbulent forces. Their sleek design and resistance to agitation or impact damage make them an ideal fit for use in military, industrial and manufacturing sectors. However, due to their smaller surface area, designers have limited space for pins, resulting in lower panel density.
By contrast, rectangular connectors have corners that provide additional space for pin placement. Due to their modular nature, rectangular connectors also offer more design flexibility — for example, arranging multiple single connectors side-by-side to conserve space or integrating cables into one connector to form a single, multi-functional solution.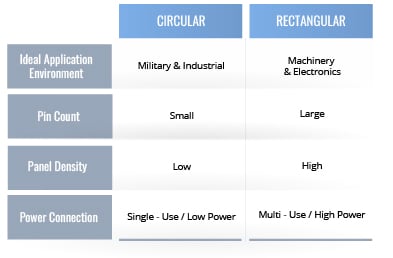 Step 3: Determine the terminal bond and coupling style
The terminal bond refers to the mechanical method by which a connector is affixed to a wire or cable. Terminal bonds are formed in one of two ways:
Crimping involves the use of a specialized tool that compresses and deforms metal parts to adjoin a wire to another wire or terminal.
Soldering involves a specialized process wherein solder material is melted onto the joint between two wires or between a wire and terminal to form a permanent bond.
Both terminal bonding techniques are effective; however, crimping offers a higher degree of protection against mechanical strain and water or dust ingress. Conversely, soldering tends to be less expensive and requires less tooling.
The coupling style refers to the mechanical apparatus used to connect a female connector end to a male connector end (i.e., mating and unmating.) This design detail is mission-critical for three reasons:
First, the strength and reliability of power, data or signal transmission relies on the quality of a cable assembly's connection.
Second, the type of coupling used to form this connection will influence whether or not an assembly is field-installable or easily serviceable.
Third, the coupling mechanism will directly impact the connector's lifespan depending on mating frequency.
Coupling mechanisms are available in three basic styles:
Threaded couplings feature internal or external threads that screw together to mate two connector halves. This style offers a strong connection but requires additional design considerations, such as the time and hand space required for a technician to manually screw the connectors into place.
Bayonet couplings use spring pressure to create a tight connection between connector halves. Technicians push and turn to align contacts and guide external pins into L-slots or 'ramps' that effectively lock the connection into place. This style still requires time and hand space but allows for faster, easier installation in the field.
Push-pull couplings have a self-latching compression coupling (similar to a bayonet coupling) but uses axial force rather than linear force to mate two connector halves, making them the fastest and easiest way to connect cables in the field.
Step 4: Determine what conditions the connector must endure
There are numerous customizations available to ensure that your connector solution performs in even the most extreme applications. The most effective way to improve performance, durability, and lifespan is to select an overmolding material that protects the areas of a connector most susceptible to damage, including its sheath or jacket, insulation and conductor. At minimum, consider the following mechanical and environmental factors: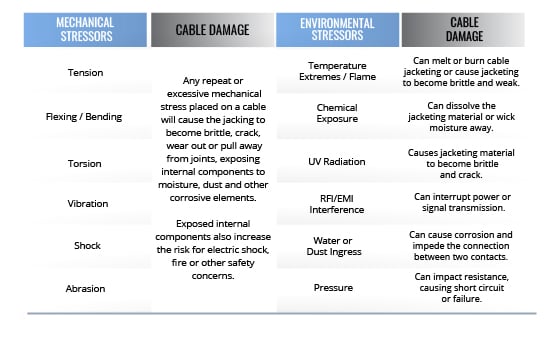 Step 5: Configure your connector using our product configurator tool
Our product configurator is an interactive drag-and-drop tool that makes it easy to design and customize the optimal connector for your application.
The tool will guide you piece-by-piece through the connector design process and only requires that users input three important details:
Number of contacts
Required voltage
Current strength
Once inputted, the tool allows you to define other important design details, such as type of shielding, gender, overmold style, cable style and length. Lastly, click to download a CAD document or PDF datasheet to share with your team.