---
Get your FREE Contact Ampacity Guide!
To assist in the selection of the appropriate contact size for connector application, we have created this "Contact Ampacity" chart. The information provided is based on UL requirements and the National Electric Code.
This chart provides the maximum amperage that can be applied to all contacts based on the size of the contact and the number of contacts in the insert configuration.
---
Click the image below to download!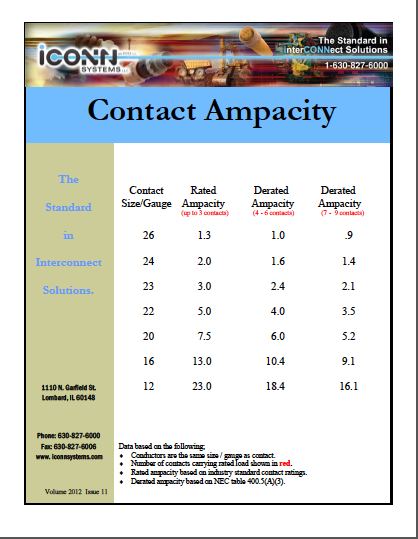 ---

Your Engineered Interconnect Solutions Partner:
Now that you examined your contact ampacity requirements, let our knowledgeable product development team work with you through our step-by-step engineered solutions process to develop the appropriate custom connectors and cable assembly products that fit your budget and application.
---
To learn more about what iCONN Systems can do for you, please Contact Us today!