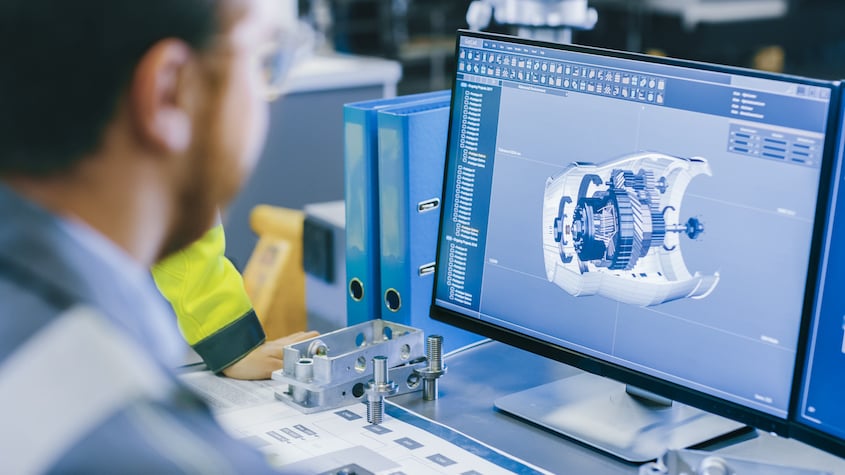 When it comes to product development, the devil is in the details. From cost and volume to production time and distribution, the numerous variables involved in every decision mean even the smallest issue with design can quickly push a project out of scope. That's why designing for manufacturability is mission-critical for product teams.
What is Design for Manufacturability?
Design for manufacturability is an engineering methodology where product teams consider variables in the manufacturing process as they make design decisions. The goal is to reduce production costs, streamline manufacturing operations, and improve time to market.
For example, cooling times for molded parts will depend on the type of material used for the product, the mold design, and the process used to manufacture the part, such as high- or low-pressure injection molding.
How to Design for Manufacturability
Designing for manufacturability requires taking an analytical approach to design and process development. Especially in today's economic climate, where supply chains are frequently disrupted, product teams must be exceptionally good at challenging their own design ideas, validating assumptions, eliminating inefficiencies, and ultimately identifying the path of least resistance. To that end, design for manufacturability will require product teams to:
Play Devil's Advocate:
Weigh Pros and Cons:
Reduce Cost Drivers:
Forecast Potential Risks
Conduct design comparisons and explore alternative design approaches.
Consider how product materials and attributes will influence cost, machining requirements, manufacturing time, and functionality.
Determine why some designs have a higher material cost and explore alternatives
Identify and address any details that could create issues during the design stage and later stages of the project, when time and cost count the most.
The Key to DFM: Rapid Prototyping
Rapid prototyping services play an important role in helping product teams design for manufacturability. In short, rapid prototyping allows them to develop a scale, functional model of a part using 3D computer-aided design (CAD), 3D printing, and other techniques. When integrated into a strategic engineering process, teams can design a product, create a functional prototype, test design assumptions, preview materials and aesthetic features, make changes to design decisions based on findings, and work out any potential issues before the assembly process. For example:
Product dimensions
Surface finishes
Material performance
Fit and function
Tolerances
Designing for manufacturability might also mean eliminating any unnecessary parts that would add time or cost to production.
All products can benefit from rapid prototyping capabilities, but the projects that stand the most to gain are those that involve numerous distinct parts and have little or no room for error due to tight deadlines or budgets. Beyond the validation of design elements, rapid prototyping delivers numerous direct and indirect benefits, including:
Reducing overall development time
Lowering the cost of development
Mitigating manufacturing risks
Increasing user involvement in product design
Those who maximize rapid prototyping services to design for manufacturability can reduce their design-to-production timeline from months to weeks. Equally important is the degree to which product teams can push boundaries and innovate new products. iCONN Systems offers a variety of rapid prototyping services in-house to ensure that product teams have access to all the materials, expertise, and data needed to develop exceptional solutions.
Learn more about our rapid prototyping capabilities.