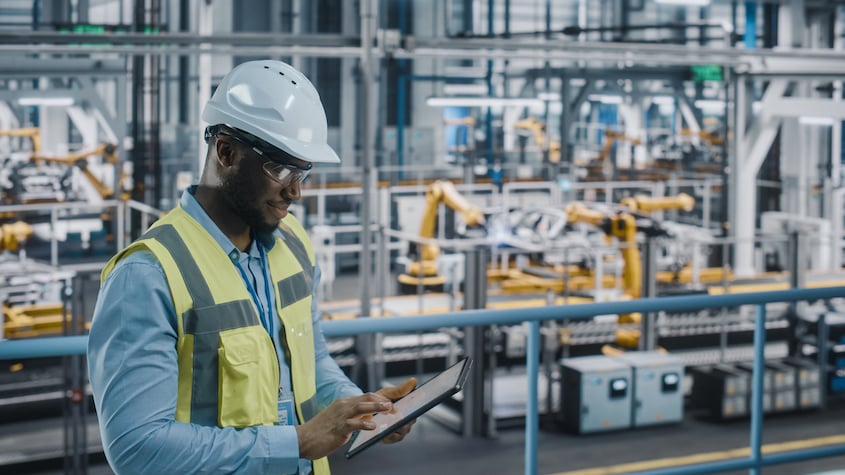 Disruption is a powerful driver of innovation. Few enterprises can attest to this fact as vehemently as those in manufacturing. Between the massive skills and labor shortage, consumer demand for greater customization, shifts toward high-mix/low-volume production, and rampant issues with the supply chain – most manufacturers have quickly adopted automation technologies to redesign job tasks and processes.
Here's how robotics, machine learning, artificial intelligence (AI), and other automated technologies will shape the future of manufacturing for the better.
Data-Driven Operations
Those embracing digital transformation use machine-embedded, network-connected sensors to collect and transmit huge amounts of data through AI and machine learning. When integrated with Enterprise Resource Planning (ERP) systems, we're talking about up-to-the-minute insights that drive vast improvements across the entire manufacturing landscape. For example:
Predictive & Proactive Maintenance
Automated technologies connect "smart" sensor-equipped machines with the internet – otherwise known as the Industrial Internet of Things (IIoT) – to enable the advanced monitoring of systems and equipment (and their respective outputs) in real-time. This technology not only allows manufacturers to evaluate production quality and efficiency; it also helps facility maintenance managers remedy issues before they impact production processes.
However, maintenance still hinges on human intervention, which can present certain challenges, especially given the talent and labor crisis. In response, engineers are making strides in self-healing machine technology. Using sophisticated algorithms and AI, self-healing machines can detect mechanical parts, perceive changes, and adapt to new conditions without requiring any human interaction.
Inventory Management
Real-time analytics afforded by IIoT-connected ERP systems equate to real-time intelligence across the entire supply chain. With this degree of visibility, manufacturers are gaining end-to-end control over inventory, including:
Sourcing and procurement
Asset utilization
Customer returns
Stock movements
Product and market performance
Production Optimization
Sensor technology isn't exactly new in manufacturing, but the quality and accuracy of the resulting intelligence have evolved substantially over the last decade. For example, early manufacturing automation collected data on the production floor at various processing steps. However, sensor measurements varied and could be interpreted differently. Furthermore, not all parts of a workflow were equipped with sensor technology and automation. As a result, manufacturers struggled with fragmented data and gaps in intelligence that left them with only parts of a much larger story.
With advances in machine learning, which combines information across disparate systems and processes, the quality, accuracy, and consistency of production intelligence mean a clearer picture of what's happening at all levels of operation and better predictive modeling and forecasting. Rather than react to changes in demand, manufacturers are gaining the foresight to procure and produce with unprecedented exactness, greater speed, and less waste or disruption.
Access, Implementation & Scalability
Facilities with end-to-end automation are equipped to double (if not triple) production over manufacturers that are still relying on manual processes. However, achieving such success will entirely depend on an organization's ability to adopt and implement manufacturing automation and robotics at scale. More specifically, manufacturers will need to find ways to minimize the time and cost of deployment while keeping up with market demands and disruptions. Eventually, automated technologies will become more scalable and integratable to address concerns over agility, speed, and production continuity. Integrability will also help combat talent and labor shortages by making complex processes simpler and less technical for workers.
Industry 4.0 - Manufacturing Reinvented
As expectations for safety, speed, flexibility, and quality continue to grow, the future of manufacturing automation will focus on changing how people and machines work together to power production and meet evolving market demands. Eventually, intelligence will move beyond relational data systems, turning facilities into smart factories that operate on a data fabric, which connects all operations from the ground floor to the C-suite. More importantly, data fabrics will produce semantically enriched data that machines can interpret within the context of a facility's core entities, business relationships, logistics, and rules of governance to deliver numerous operational benefits, including:
The ability to capitalize on cost-saving opportunities
Higher productivity levels
Alignment with Environmental, Social, and Governance (ESG) initiatives
Improved workplace safety
Enhanced adaptability to market shifts
Higher quality products
However, manufacturers still question whether the benefits of digital transformation will outweigh the initial cost. The answer is yes. Those who adopt end-to-end manufacturing automation will have a dramatic competitive advantage over those who do not. More specifically, they will have operational efficiency and market visibility to ensure production continuity regardless of supply chain disruptions.
Your Connection to The Future of Manufacturing Automation
Though becoming more reliable, the connectivity level in Industry 4.0 is still too sophisticated for wireless IIoT solutions. Instead, manufacturers recognize the unparalleled consistency and speed of wired IIoT connections and have increasingly prioritized hardware upgrades, including cabling and connector solutions, to support the expansion of robotics and automated workflows.
Like all other moving parts in manufacturing, interconnect solutions have become far more advanced and sophisticated compared to the cabling and connections present in legacy infrastructures. This is particularly true for harsh environments, such as those encountered on the production floor, where equipment is exposed to extreme temperatures, chemicals, mechanical stress, moisture, dust, and other damaging elements.
iCONN Systems partners with manufacturers to develop and deliver the most advanced interconnect solutions available, including:
High-density cables that can incorporate multiple wires within a profile as small as a ½ inch.
Shielded cables that protect data from interference during transmittance.
Overmolded cable assemblies that can withstand extreme environmental and mechanical stress.
Niobium wet-mate connectors, which are completely impervious to the risks and damages associated with exposing electrical assemblies to water.
Learn more about our solutions for automation in manufacturing and industrial environments.