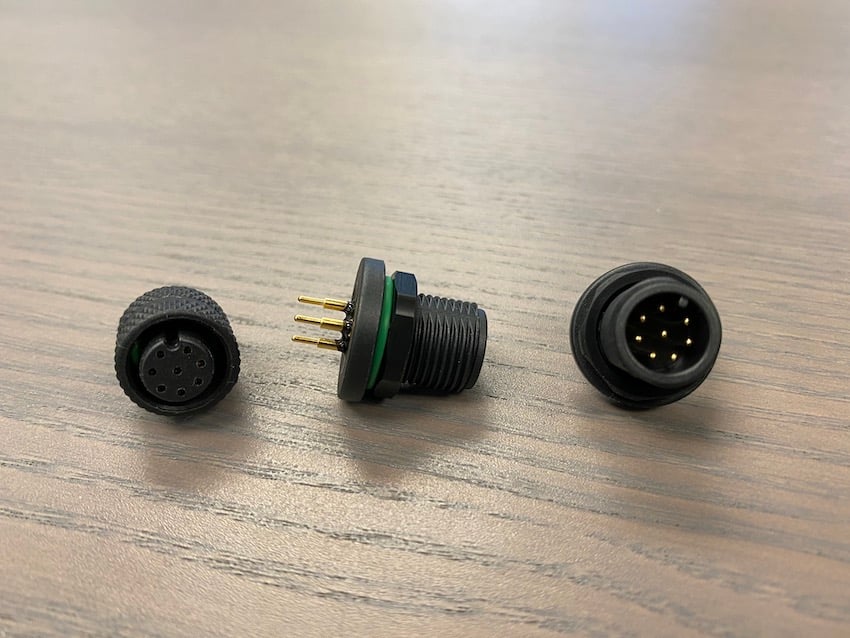 On a quest to engineer electrical connectors that strike the perfect balance between quality, cost and performance, iCONN Systems Inc., took one of its top-performing product lines and made it more cost-effective. Introducing, plastic i12 connectors, the newest member of the i12 connector series.
The i12 Connector
iCONN designed the i12 connector series to cross-compete with m12 connectors. The i12 is larger than the i8 to accommodate bigger wire gauges or bundles, but equally reliable. Rated for IP-67 through IP-69K, the i12 connector is ideal for marine applications or environments that expose electrical connections to dust, moisture and other extremes. The original product line exclusively offered a metal-shell connector design with threaded couplings made of nickel-plated brass or stainless steel. Now, iCONN customers have the option of a plastic-shell connector design, as well.
Why choose plastic i12 connectors?
Plastic-shell connectors are less expensive than metal shell connectors. However, make no mistake, plastic i12 connectors are anything but a "cheap" alternative. We're talking about high-performance plastics that can endure most of the same mechanical and environmental demands as their metal-shell counterpart.
The Benefits of Plastic i12 Connectors
Non-Corrosive: In medical applications that involve chemical sterilization, ions in the chemicals can corrode metal-shell connectors, causing damage to the mechanical and conductive properties of the connector. Plastics, on the other hand, such as Polyvinyl Chloride (PVC), are resistant to chemical reactions, making the plastic i12 connector an ideal alternative for such environments.
Electrically Insulated: In applications where the connector is grounded through the shell, bare metal can put users at risk for electric shock (especially in high-voltage applications). A plastic-shell connector will insulate conductors to eliminate the chance of a user coming into direct contact with the grounding path.
Lightweight: Plastic materials are inherently lighter than metal. In applications like aviation equipment where every gram counts, product developers can shave weight without compromising strength using plastic i12 connectors instead of metal.
Less Expensive: Plastics are processed at lower temperatures compared to metals, which allows manufacturers to use advanced techniques like injection molding to produce intricate designs faster and with fewer resources. Since plastic weighs less than metal, manufacturers and customers also save on shipping costs.
Are metal i12 connectors obsolete?
Absolutely not! Plastic i12 connectors are a reliable, high-performance alternative for many applications, but there's no competing with a metal shell's strength, heat resistance and ability to withstand pressure. Stick to metal-shell i12 connectors if your application involves:
Exposure to extreme heat
Direct or indirect contact with flames
Extremely high-pressure hydraulics
Critical applications in which failure can have severe consequences
When deciding what type of connector your electrical assembly requires, follow the golden rule: Invest in a long-term solution, not a quick fix. In other words, while cost savings are important, mechanical and environmental demands should take precedence over price.