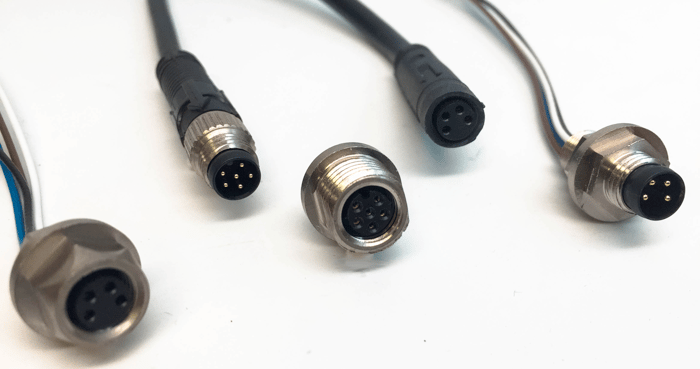 When it comes to choosing a rugged, sealed connector for use in commercial, consumer electronics or industrial applications, the i8 iSENSOR connector is one of the most reliable choices. Before products like this were developed, engineers had to hard-wire or replace connectors because they could not survive in extreme environments. This was both a costly and timely setback with the potential to hurt entire operations.
Today, connectors like the i8 iSENSOR are capable of standing up to the most demanding applications, including high-pressure wash-down processes and corrosive environments. These connectors meet compliance requirements with IEC and RoHS directives, and can be customized to fit highly specific applications—all at an affordable, competitive cost.
The Design
The i8 iSENSOR features a closed-entry female contact design with threaded or push-pull construction, and a voltage rating up to 300V (depending on the configuration). This connector is available with straight or right angle overmolded plugs and rear or front panel mount receptacles.
With 2-, 3-, 4-, 5-, or 6-pin options, the i8 is equipped to handle advanced sensors and actuators in a single system. Each connector is built tough with nickel-plated brass or stainless steel coupling and jam nuts, and overmolding in several materials, including:
Polyvinyl Chloride (PVC): the most popular overmold material, excellent for use in industrial environments, available in numerous colors.
Polyurethane (PUR): performs best in applications where flexibility or resistance to abrasion are important.
Thermoplastic Polyurethane (TPU): a flame-retardant overmold material capable of withstanding extreme temperatures.
The Application
The i8 iSENSOR is an excellent choice when durability and reliability matter most. These connectors serve well in industrial applications, such as automotive production, food and beverage processing or machine building. They also provide lasting performance in the manufacturing of rubber and plastics, textile and printing, the oil and gas industry, mining, shipping and more.
The i8 iSENSOR meets the IP67 (ingress protection) rating and, with the proper customizations, is capable of meeting IP65, IP68, and IP69K ratings.
If you are in the process of selecting the right connector for a specific application, the decision can be daunting. You're up against numerous options and must select a connector that fits both your performance and budget expectations. We recommend beginning with an outline of all environmental demands, including high electrical or electronic noise, heat, water, high humidity, abrasion and flexibility. These demands will help narrow down what coupling and overmold materials you'll need to ensure durability and life span.
For more information about the i8 iSENSOR connector, including specifics about material, dimensions and configurations, check out iCONN's 2016 product catalog.