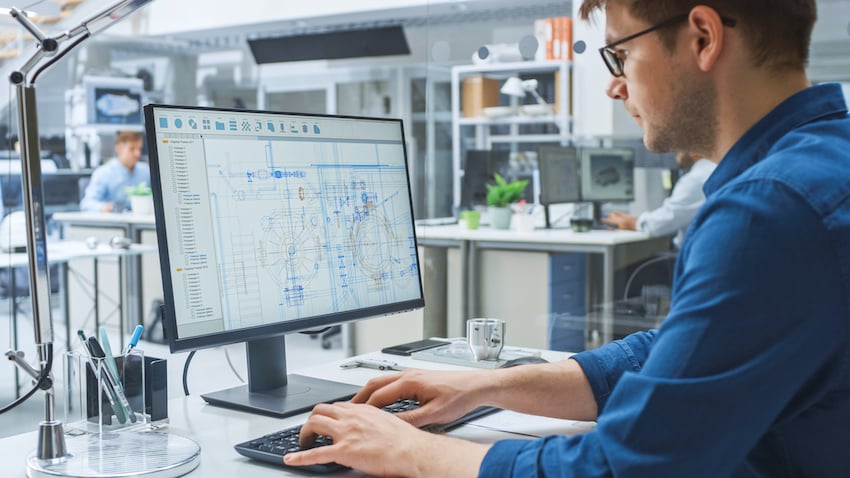 Computer Numerical Control (CNC) machining is a fully-automated manufacturing process akin to robotics. Instead of human operators who manually prompt and guide machines using levers, buttons and wheels, this technology uses pre-programmed computer software to command the speed, position and movement of factory tools with little involvement from humans. At iCONN Systems, CNC machining is the secret weapon behind our advanced rapid prototyping capabilities. Here's how it works:
First, our engineers create a 3D CAD drawing. Next, computer programmers translate the design into computer coding that can be interpreted by the CNC system. Where traditional numerical-controlled machining involved a static process of developing and inputting programming via a punch card, computer-controlled machining is far more dynamic. Program coding is stored within the computer's memory and can be revised or updated at any time to adjust functionality.
Why CNC Machining is Important
The purpose of CNC machining is to simplify and automate specific manufacturing tasks and processes to increase efficiency and consistency. CNC technology is ideal for operations that involve repetitive movements and predictable cycles, such as turret punchers and wire-bending machines. More importantly, computer-controlled programming can execute the 3D cutting of intricate parts designs with unrivaled precision.
Take iCONN's m8 and m12 product lines. Often times, customers need these standard connectors, but with a custom housing or coupling nut. By retaining CNC capabilities in-house, iCONN can turn unique offerings quickly and cost-effectively.
CNC machining enhances cutting performance and enables iCONN Systems to make intricate cuts in brass, stainless steel and aluminum with expert precision. Beyond shaving production time down to minutes, CNC machining offers several customer- and manufacturer-facing benefits:
Improved machine accuracy
Detailed part designs
Increased manufacturing agility
Increased safety
Reduced labor costs
Decreased lead times
Bolstered production volume
Reduced setup-changeover time
Using CNC Machining for the rapid prototyping of modified standard connectors and other parts is one of the many ways iCONN Systems adds value to its services. We also implement cellular manufacturing to reduce materials waste and optimize manufacturing processes, and offer in-house testing and certification to deliver a comprehensive customer experience.
Learn more about our robust inventory of receptacle kits, cable assemblies, connectors and wire harnesses.