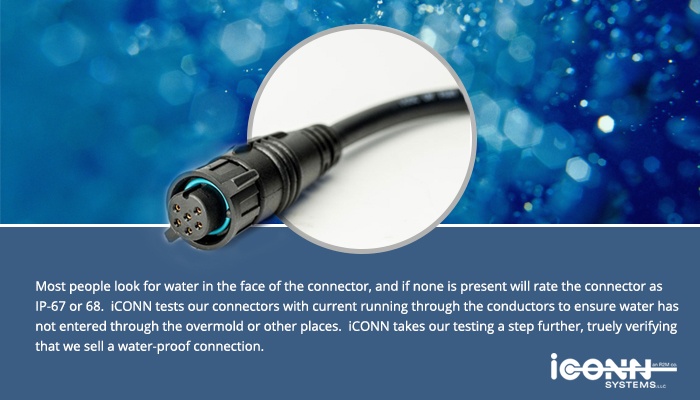 The International Electrotechnical Commission (IEC) 60529 is a global standard published by the National Electrical Manufacturers Association (NEMA). Within IEC 60529 you will find the IP Code (also referred to as the International Protection Marking). The IP Code classifies and rates the degree of protection provided against the intrusion of solids and liquids into a mechanical or electrical enclosure. By enclosure, we're referring to a piece of equipment, cable, connector, or an assembly unit.
What is IP67?
"IP" stands for ingress protection. An IP code may have as many as three numbers that follow:
The first number represents the degree of protection from solid objects/material.
The second number represents the degree of protection from liquids (namely water).
The third number represents the degree of protection against mechanical impacts.
However, the third number is rarely present, as it is not technically a part of the IEC 60529 standard.
What does the 67 mean?
The number 6 represents total protection against dust (as opposed to protection only against a certain size solid, or limited protection against dust).
The number 7 represents protection against immersion (under defined conditions) between 15 cm and 1 m for up to 30 minutes. Note: This does not mean a connector will work when immersed in water. It means the connector will work once removed from the water.
The "6" in IP67 is the highest rating for protection against dust. Two additional ratings follow the "7":
The number 8 represents total protection when immersed in depths of 1 m or greater and/or longer than 30 minutes.
The number 9K represents protection against powerful high-temperature water jets.
In what applications is IP67 used?
Anything classified as IP67 is built to withstand rugged environments. Common applications include industrial machinery, mining equipment, construction site equipment, outdoor communications equipment and numerous military tactical tools, such as hand-held radios and GPS systems.
IP67 at iCONN Systems
iCONN offers several lines of overmolded connectors. Overmolding adds an additional layer of durable protection to an IP-67-rated connector by encapsulating the rear of the connector body (and its contents) with an overmold material, including PVC or TPU. To ensure our connectors meet and exceed IP67 standards, we test each connector in mated and unmated conditions to confirm that water is absent in the face of a connector after immersion, and also that water did not infiltrate the overmolding, which would eventually degrade the connector from the rear.
Our IP67-rated connectors are available in many styles, configurations and functionalities to offer flexibility without compromising on protection. Furthermore, they are customizable to achieve an even greater degree of ingress protection.
For more information on connectors, overmolded cables and custom-engineered solutions, check out iCONN's 2016 Product Catalog.