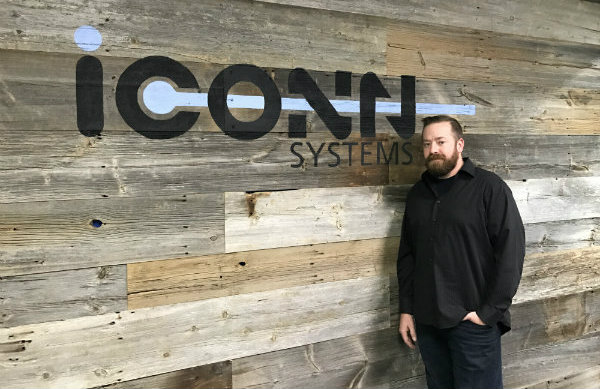 Jaymin Jeffery is the Quality Manager at iCONN Systems. In other words, he's the guy who oversees iCONN's manufacturing process to ensure that, from conceptualization and development to production and delivery, every client expectation is met.
Jaymin is also the driving force behind iCONN's ISO 9001:2008 certification of Quality Management Systems. In fact, this prestigious certification is the reason iCONN sought Jaymin's talents. Under his leadership, iCONN runs an incredibly efficient operation that consistently delivers high-quality products and an exceptional customer experience.
As you can imagine, Jaymin's job requires close attention to detail, the likes of which he honed long before his time at iCONN. Jaymin completed his undergraduate degree at Illinois State University, where he majored in fine arts with a concentration in glassblowing. Not what you expected, right? But art requires a tremendous amount of patience and a keen eye; skills that would later serve Jaymin in his career. Larger pieces blown in a studio setting are his favorite to create, but Jaymin explores many facets of glassblowing and knows several rare and unique trades, including neon sign work. After graduating from Illinois State, he attended Benedictine University and earned his MBA.
When he's not at work, Jaymin spends time with his kids or relishes the outdoors. He coaches youth soccer, is involved with Cub Scouts and shares his love of the outdoors with his family. Fishing and hunting are his favorites, but he joked, "Hunting is pretty much just me sitting in a tree." Another example of his attention to detail: Jaymin constructed a fully operational canoe a few years ago. The project took nearly 10 months to complete, and he hopes to someday pass the canoe down to his children. Jaymin also loves music and watching the Chicago Blackhawks dominate the ice.
Jaymin also enjoys the people he works with, the fast-paced nature of his job and the diversity of iCONN products. No two products are the same, and the innovation and critical thought that goes into every custom project is what keeps Jaymin happy on the job. He believes iCONN's greatest strength is its ability to meet customer requirements quickly. He feels great pride in his team's distinct ability to take a customer concept from idea to production in a short period of time.
Jaymin's influence is apparent in the quality standards that dictate iCONN's entire production process. iCONN just wrapped up its ISO 9001 recertification, which took 26 hours of auditing. Next up, Jaymin will help his team achieve ISO 9001:2015 certification — the latest Quality Management Systems standard with a greater focus on risk management.