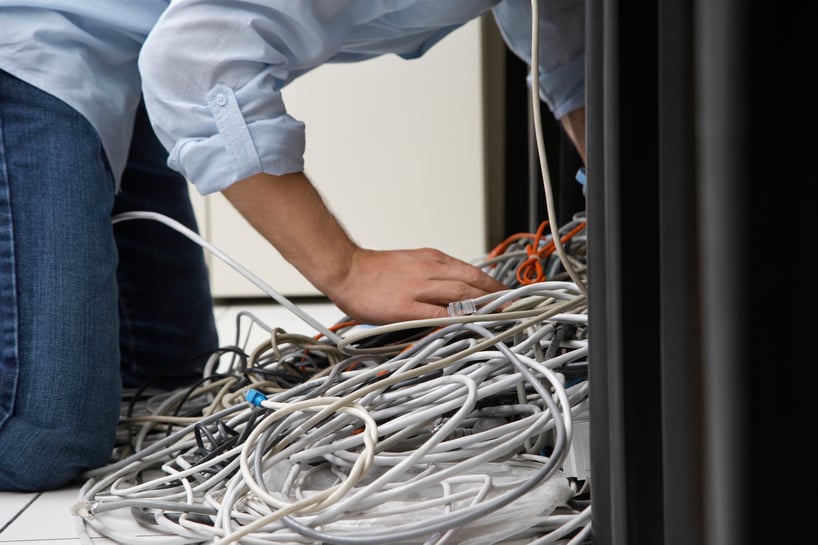 A lot can go wrong with connectors. iCONN's customers are experts at what they do, but rarely do they have someone on their team who specializes in cable assemblies. Unfortunately, many learn the hard way that a bad connector can make or break the application for which it is used. As a custom engineering interconnect provider, we do everything in our power to make sure our customers don't repeat the mistakes of others. One way we do this is by educating our customers on the most common pitfalls. We also refine our processes so these mistakes are much harder to make. Take a look at the most common mistakes in cable connector assemblies connector engineers and manufacturers see and heed our advice to avoid them.
Mistake No. 1: Miscommunications
This is one of the biggest mistakes we see. When a project team is communicating their needs to a connector engineer, two languages are at play. Engineers use terms like "cable" and "connector" in the most literal way. Customers are more loose with terminology, and may say "cable" but mean "assembly." In this way, expectations easily get confused.
Remedy
Ask that an engineer attend preliminary and advanced conversations about the project. iCONN assigns an engineer to every project meeting to encourage customers get specific about project details. They ask clarifying questions, probe for advanced details and collect information in exact terms to prevent miscommunications.
Mistake No. 2: Developing Plans Without Enough Detail
Often, customers are hyper-focused on the most obvious needs, such as daily plug and unplug activity or load size. But what they fail to mention is environmental conditions that will also play a major role in how well a connector will perform.
Remedy
The more information you can provide to your connector design team upfront, the better your custom product will be. Customers grossly underestimate the "effects of pollution" or "environmental effects"—things like dirt, grease, chemicals, water and dust that can accumulate and prevent connectors from doing their job. You should also discuss any warranty issues, as your connector engineers will work around them to help bring indirect warranty costs down.
Mistake No. 3: Lacking a Baseline for Expectations
If a customer doesn't have what they need, has never had what they need, and therefore doesn't know what they need, how can they properly communicate expectations? For example, a customer might call to ask if a very specific connector can be overmolded. The answer is usually yes (unless the cable is made of a material that won't bond), but the customer might be trying to invest in a connector that's 10 times more expensive than what they need.
Remedy
Don't settle for a manufacturer or distributor who is trying to "sell" you on a product. Instead, talk with a specialist who knows connectors inside and out. Our penultimate goal is to help customers save money by selecting the optimal solution; the correct solution. No more, no less.
Mistake No. 4: The "Buy and Try" Mentality
Many customers define their need for a connector, shop online for one that looks like it might fit their requirements, make the purchase and cross their fingers. It may work, it may not. Either way, they're taking a risk.
Remedy
Work with a connector specialist that offers rapid prototyping services like 3-D printing, and can test, verify and validate designs in-house before they go to production. Three-dimensional printing allows you to hold a functional sample in your hands before committing to the full investment. You can plug and play with the connector to see how well it fits your product and confirm with greater certainty that it possesses the correct features.
Note: Prototype drawings are helpful, but not always effective when signing off on a connector design. They don't capture the true size of the connector, cable or assembly, which can lead to miscommunications and failed expectations.
Mistake No. 5. Neglecting an Important Question
From the very beginning, product teams and connector engineers should be brainstorming over an important underlying question, What kind of synergy can we get out of this new design? Your design team should coach you through the design process and push you to think about features that may not be top of mind, such as wire management features, or a specially placed hole to use as a tie wrap.
Remedy
Bring in a company like iCONN from the very beginning. We understand what must be made in order to provide you with what you need, and that's a valuable perspective to have from the start. We also help customers think about design features that will result in a superior product. These features don't add to the cost of the project and will guarantee that the custom solution we create together is the optimal solution for your application; something truly unique that sets you apart.
Now that you know what to watch out for, you're ready to work with a custom interconnect team. Click here for more information on our custom engineered solutions process and contact a specialist today to get started.