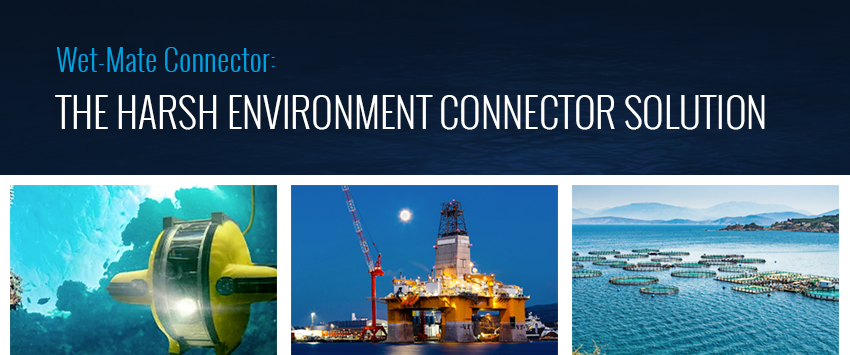 This is the fourth in a six-part series as we take an in-depth look at how NiobiCONN™ performs in various applications and can provide solutions no other connector can.
Underground electrical technicians are responsible for upholding some of the most important operations and infrastructures in the world. The stakes are high, the worksites are extreme, and preventive maintenance is vital to thwarting the many challenges lurking below ground, including:
Natural Elements: Even though cable assemblies are placed underground away from the elements, they are still susceptible to weather damage. Product developers and technicians alike must be prepared for lightning strikes, flooding, earthquakes, uprooted trees and more.
Excavation Damage: Often, underground applications such as pipeline projects involve multiple disciplines. It's not uncommon for teams belonging to different companies to work side-by-side in tight areas. Should excavation or other construction activities accidentally damage electrical circuits, it's not always easy to trace damages back to the appropriate party.
NiobiCONN™: The Ultimate Underground Connector
One of the best preventive maintenance moves underground technicians can make is selecting a niobium wet-mate connector for the job. NiobiCONN™ connectors are corrosion-proof, have zero pressure limits, and can be mated or unmated in dry areas or while completely submerged underwater, making it the most durable and versatile underground connector available. The most remarkable feature of NiobiCONN is its niobium contacts, which possess the unique ability to self-insulate and self-heal. Each time contacts are exposed to water and electricity, they instantly produce an insulating film that protects the electrical components from damage. When mated, the film wipes clean. When unmated, the film regenerates instantly. NiobiCONN wet-mate connectors can be custom designed or integrated with off-the-shelf products to meet the demands of a variety of underground applications:
Oil and gas exploration equipment, such as memory tool sensors and wireline devices, which require electrical components that can withstand the extremes, including exposure to chemicals or oil.
Sewer and pipeline inspection and repair equipment, such as inspection cameras, transporter systems, and leak detection sensors that frequently come into contact with grease, digester enzymes, bio acids, chemical agents, and (of course) water.
Underground substations that depend on remote monitoring systems and sensors to maintain pressure, temperature, and other environmental factors.
Mining equipment, such as conveyor systems, haulers, and draglines that increasingly rely on electricity instead of fossil fuels, which create ventilation problems and contribute to high operating costs.
Keep systems running smoothly and reduce the risk of electric shock, shorts, and other electrical problems that can put technicians in danger. NiobiCONN wet-mate connectors outlast and outperform even the most extreme, industrial-grade connectors. Learn more about how our patented niobium technology can serve your next project.