Did you know that rapid prototyping services shorten production time by an average of 63 percent? With that kind of time-to-market acceleration, it's no wonder the future of product development depends on this technology. If your competitor incorporates rapid prototyping into their production process and you don't, it'll be nearly impossible to keep up with their speed and quality output.
Rapid prototyping uses a variety of techniques to develop a scale model of a physical part quickly. The process usually involves 3D computer-aided design (CAD) and 3D printing (also referred to as "additive layer manufacturing"). Three-dimensional printing can be used for virtually any design without the need for expensive tooling. The prototypes created with this technology aren't just general representations either. Your team can get granular about the details and produce a replica that functions just as the end-design should. Parts can even be painted, polished or electroplated to match nearly any visual design features that the final part will have.
Frictionless Product Development
Beyond saving time and money, the real competitive advantage your team will gain with rapid prototyping is the ability to validate assumptions about mechanical characteristics early in the design process, long before resources are committed to large-scale manufacturing. Test, identify flaws, and iterate design elements, including size, shape, and assembly features, and take your product from ideation to market without all the friction common in traditional processes. Rapid prototyping will also give you greater freedom to explore product concepts, expand ideas, design for manufacturability (DFM), and truly innovate with far less risk.
Design → Print → Test → Tweak → Repeat
Rapid Prototyping Processes
There's more than one way to rapid prototype a product. Below are the three most popular methods and how they compare to one another in terms of speed, cost, versatility, and accuracy.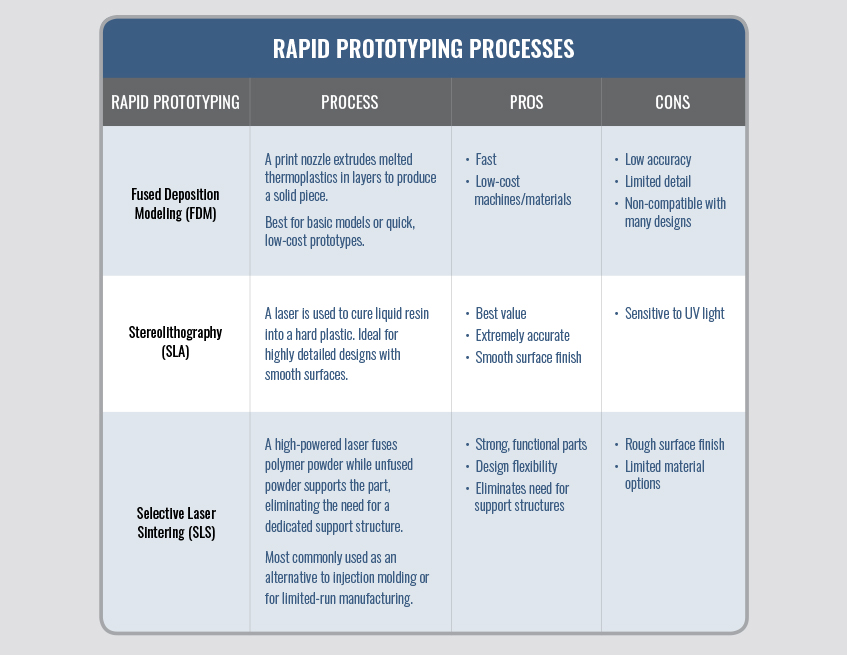 Which Rapid Prototyping Method is Right for You?
When it comes to cable assemblies and connectors, there are dozens of variables that will influence which rapid prototyping process is best for your design. Instead of choosing a method, spend your time searching for the right cable manufacturing partner. Not only does iCONN Systems provides rapid prototyping services in-house; we also created a streamlined process to help your team save even more time and money. Our engineers will work closely with your product developers to deliver a fully functional prototype in just hours after the initial design has been created.
Learn more about iCONN's rapid prototyping capabilities.