Hopefully you are familiar with what iCONN Systems does, but if not, let me give you a quick refresh... iCONN Systems is a custom engineered interconnect solutions design and manufacturing company. (Click here to learn more About Us). But how much do you know about WHO we are? iCONN Systems is part of the R2M Holding's Portfolio along with our sister company, Mechanical Products Co., a maker of high quality thermal circuit protection devices. But iCONN Systems and Mechanical Products are more than just sisters, we are also neighbors within the same building. WE share our Information Technology department, as well as our network infrastructure. This unique partnership allows us to keep our small-company agile and efficient while offering the IT resources and capabilities of a much larger company.
---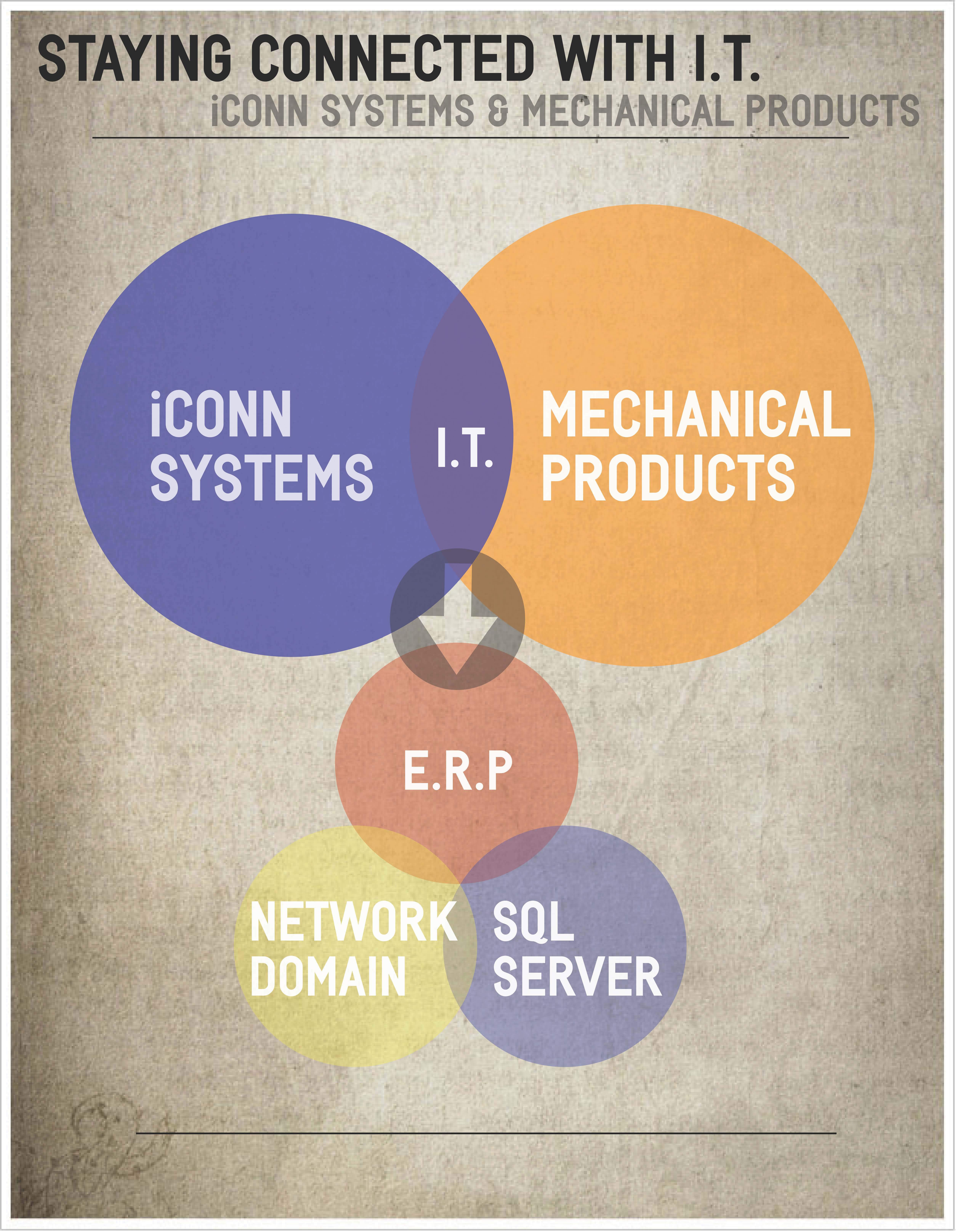 At our core, iCONN Systems and Mechanical Products exist on the same network domain, sharing the infrastructure components that all companies have in common such as firewalls, network switches, and domain controllers. We utilize the same email environment and a shared (but separately organized) file server, maximizing the productivity of our common departments such as finance and human resources, and allowing us to communicate more effectively with each other. We even use company-specific databases in the same powerful Enterprise Resource Planning software, Aptean's Intuitive ERP. (We talk more about ERP HERE). By using the same ERP system, we are able to share operational knowledge with each other and learn the most effective and efficient methods of using the system more quickly as each company grows in production capabilities and services. By keeping the amount of server hardware relatively low, we reduce the amount of maintenance time require by the IT department and are able to split licensing costs between companies - for example, we are able to use just one SQL Server back end to hold each company's ERP database.
By leveraging our combined numbers and IT systems, we're able to take advantage of volume pricing at every opportunity, resulting in discounts on business-critical services such as internet bandwidth, telephone lines, and even software licensing and hardware costs. Our backup systems are also shared - the higher volume of data storage gives us a discounted cost that is then split between the two companies. Through this collaboration, we are able to reach enterprise-level agreements with software companies, such as the program used by our human resources department to track employee vacation time which results in shared costs and savings.
All of these advantages translate to reduced operations cost for both iCONN Systems and Mechanical Products, a savings we pass on to our customers!
---
If you are interested in learning more about iCONN Systems, Mechanical Products Co. or our parent company R2M Holdings, LLC, please visit their website at:
Further information about our relationship can be found on this blog post: "American Born, American Made: R2M Holdings' Portfolio"
For more information on what iCONN Systems can do for you, Please Contact Us!