---
iCONN's Core Competency:
Overmolding electrical connectors and assemblies is one of iCONN System's key core competencies. The process involves injecting plastic resin around critical electrical connections under controlled conditions. The result is a highly robust and durable product with four key attributes:
1. Ingress Protection:
By controlling the materials used and the configuration of the overmolding process, we can create material bonds around cables and connectors. These bonds provide the sealing required to achieve water tight joints. These joints have been successfully tested to IP67, IP68 and IP69k standards.
2. Shock and Vibration Protection:
The process of overmolding fills spaces around internal components leaving no air gaps. Inherently, this condition prevents the overmolded components from shifting or moving within the assembly. This type of construction is ideal for eliminating fatigue and other damage associated with continuous levels of shock and vibration.
3. Protection from Physical Abuse and Abrasion:
Overmold materials can be selected to provide extreme resistance to physical abuse and vibration. A preferred material for harsh and rugged environments is polyurethane. Polyurethane is available in a variety of harnesses, has a high load capacity, and is extremely impact and abrasion resistant, making it ideal for harsh environments at a variety of temperatures. iCONN has used polyurethane in numerous applications from below grade equipment to a variety of applications where human handling is critical, even life dependent.
4. Compact Assembly and Integration:
Using overmold technology in the design of cable or electronic assemblies generally produces an assembly that is smaller than alternative assembly methods such as mechanical back-shells or enclosures. The smaller overall package size helps iCONN's customers to downsize their equipment. The overmold process can also accommodate additional items into the assembly like diodes for reverse polarity protection or resistors for circuit analysis. Other items that we have integrated into overmolding are pc board assemblies, electrical switches and small steel cables for high performance strain reliefs.
Our design team is always looking to utilize our core competencies in overmolding to provide a compact and highly integrated product to customers at a lower cost with higher performance levels in order to out perform competition.

A key design feature that we overmold is the strain relief that integrates a cable to the connector, which provides ingress protection, electrical insulation and protects the electrical connections from damage. Overmolded strain reliefs are critical to a successful molded connector design. iCONN Systems mold all types of strain relief geometry including straight, 45 degree, 90 degree and custom strain reliefs such as "shotgun" or split strain reliefs (two cables simultaneously molded into one strain relief). iCONN can tailor the over-molded strain relief to suit our customer's application.
---
iCONN Offers High Pressure and Low Pressure Over-Molding:
iCONN Systems uses two main processes for over-molding: high pressure and low pressure. High pressure overmolding offers the widest selection of material choices. iCONN Systems has high pressure overmolds using the following materials: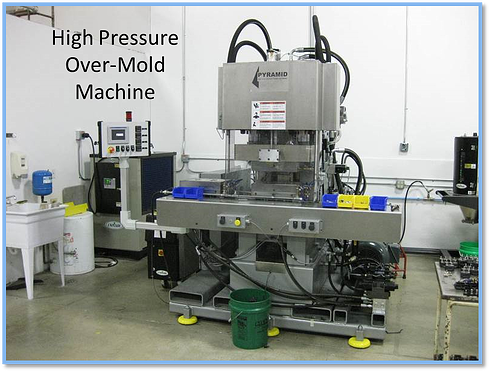 Low pressure overmolding offers one material (a special PA resin developed for low pressure overmolding) for this process. The key attribute for low pressure overmolding is its ability to over-mold delicate PC board assemblies without damaging the board mounted components. The material properties are such that it provides sealing and durable outer surface that can be used in many applications.
Each of these materials offers unique properties that make them well suited for particular applications.
Learn more about overmolding with our comprehensive guide.