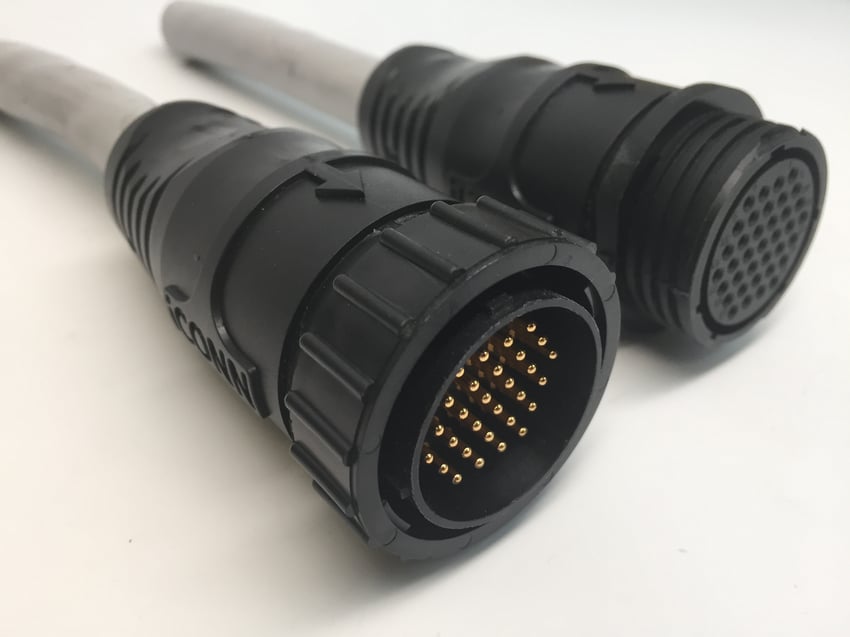 To name every electrical connector type and variation in existence would be like counting grains of sand on a beach—the options are virtually limitless. What we can do is break electrical connectors down into general categories and subcategories to help you understand the expansive inventory of products available to you. Let's start with the basics.
3 Basic Electrical Connector Types
In-Line Cable Connectors: Are permanently attached to cable ends, enabling the cable to be plugged into a terminal (either a device or another cable).
Board Mount Connectors: Are soldered to a printed circuit board (PCB) to allow for cable or wire attachment.
Panel Mount Connectors: Permanently attach to a piece of equipment, allowing users to connect power or signal cables to a stationary device.
2 Connector Variations
Rectangular Connectors: Are ideal for modular machines (factory automation, robotics, transportation, etc.) because they are highly customizable, fit into tight spaces, and easily combine multiple media, such as power, signal, coax, etc.
Circular Connectors: Are commonly used for free-hanging connections that pass through a cable tray or connections mounted on a panel. These electrical connectors are also commonly used in rugged environments where IP ratings, EMI/RFI shielding, and other protective measures are required.
Coupling Styles
Quick connect couplings are designed to replace threaded or flanged connections with plastic fittings that allow technicians to replace lines quickly and easily.
Snaplock couplings are a compression coupling designed for quick release and simple, tool-free installation.
Threaded couplings have internal male and female threads (hence the name) that screw together to form a strong, seamless connection.
Bayonet couplings involve plugging and twisting a male device with contact pins into a female end with matching sockets. An L-shaped slot and spring mechanism on the female end locks the connection into place.
Push-Pull couplings involve a strong locking mechanism to prevent accidental disconnects. The coupling can only be released by squeezing the connector body.
Terminal Bonds
Crimping: The process of adjoining a wire to a wire or a wire to a terminal by using a tool or machine to deform and compress metal parts until they form a gas-tight bond.
Soldering: The process of adjoining a wire to an electrical component using solder material that is melted onto the joint, creating a permanent bond while simultaneously acting as a conductor of electricity.
Specialized Electrical Connectors Types
The type of electrical connector you purchase or develop will depend entirely on the application, electrical requirements, mechanical needs, and environmental factors.
Rugged connectors overmolded with plastic resin to withstand extreme temperatures, abrasion, tension, and other elements that can put strain on a connector design.
Wet-mate connectors are engineered with niobium technology that acts as a water-friendly insulator, making the cable assembly truly waterproof (not just water-resistant).
Connectors can be purchased off-the-shelf in standard designs and configurations. Standard connectors can also be modified to meet unique application requirements or custom designed from scratch to ensure the perfect fit and performance.