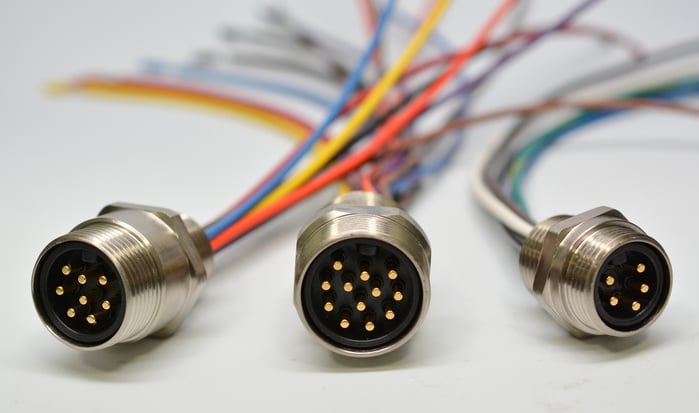 Cable redesigns are crucial when cable assemblies fail in the field, equipment managers understandably become stressed. They know how quickly the situation can go from bad to worse. Not all field failures are easy to detect, and depending on the cause, cable failures can be an expensive and untimely problem to resolve. Meanwhile, affected equipment may be rendered unfit for use or unsafe, which could prevent an organization from performing mission-critical tasks.
Why Cable Assemblies Fail
A cable assembly can fail for many reasons. Some are the result of poor manufacturing. But in most cases, it's because the application is too rugged for the cable assembly, thus reducing its lifespan. Six of the most common causes include:
Loss of Continuity: excessive cable twisting leads to the transfer of force from the cable core to the copper conductors, which causes the copper conductors to sever or break.
Insulation Damage: due to bend stress, abrasion and strand breakage.
Jacket Abrasion: when the outer jacket of a cable wears through, and the underlying layer of conductors or shielding is exposed.
Jacket Swelling: resulting from exposure to oils or chemicals for which the cable assembly was not designated to withstand.
Jacket Cracking: caused by excessively high or low temperatures.
Shielding Losses/EMC Issues: resulting from the cable shield breaking, which makes it no longer capable of protecting the cable signals from electromagnetic fields.
Excessive Torque: which causes the cable to fail directly behind the connector.
Why Cable Redesigns Are Ideal for Field Failure Correction
The moment a faulty cable is detected, equipment managers need to take action. They have three options to resolve the problem:
They can replace the cable assembly, and have an engineer custom design a new cable assembly to prevent the same problem from recurring. But replacements are expensive and require time and planning, especially if the installation is complex.
They can repair the cable assembly. But a simple repair is like a Band-Aid; only pacifying the problem, which will likely happen again in the future.
They can modify the existing cable assembly with redesigned elements to correct the problem and provide long-term reliability for less time and money than a complete replacement.
When time, cost and quality are priority factors, your best option is C, a redesign. In a cable redesign scenario, a professional engineering and manufacturing provider will assess your current cabling to find ways to refine what you already have. Redesign solutions are reverse compatible and will eliminate quality issues from happening again.
iCONN Systems employs numerous unique techniques to address quality issues and cable redesign of existing assemblies without requiring a massive overhaul. From reconfiguring cable pins and cable housing so they effectively carry load sizes to retrofitting overmolded connectors so assemblies can withstand rugged applications, there are a variety of adaptations that can be made to eliminate field failures and meet regulations; each without costing a fortune or requiring a major time commitment.
If you experience quality issues with your cable assemblies and are in need of product enhancements, click here to sign up for a free engineering analysis.