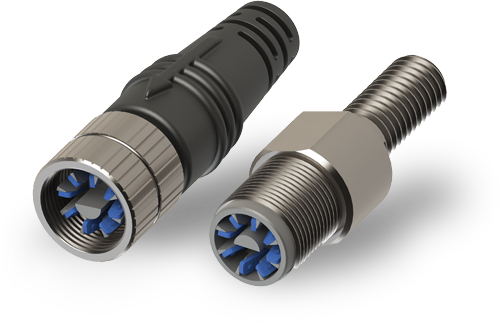 Developers and technicians aren't always keen on buying into the latest "innovation." If their go-to underwater connector solutions work, why change them? This question is best answered with another question: Why struggle to keep water out when you can let it in?
NiobiCONN™ wet-mate connectors are the superior product for numerous reasons. Here are the top 10.
Utilizing patented NiobiCONN technology yields the best performance in wet locations and underwater.
NiobiCONN wet-mate connectors can be mated and unmated above water or while completely submerged up to 60VDC without damaging electrical components.
Even underwater, NiobiCONN wet-mate connectors are completely touch-safe and hypoallergenic. Their unique design & material properties prevent the connectors from shorting and reduces the risk of electric shock, making them one of the safest electrical connector solutions in existence.
NiobiCONN wet-mate connectors can be customized to be used at virtually any depth, opening up a world of possibility for deep-sea applications.
NiobiCONN wet-mate connectors work well with off-the-shelf cable solutions, providing added cost and design flexibility.
Endless shapes and sizes, providing a customized fit for any application.
Multiple connector retention options, including screw, bayonet, and snap-lock, allow engineers to choose the ideal mechanism for design and use.
Since NiobiCONN wet-mate connectors are designed to let water into the mating connector interface, they do not require O-rings, gaskets, oil bladders, or any other type of seal.
No other underwater connector compares to the flexibility, reliability, performance, or safety of NiobiCONN wet-mate connectors.
NiobiCONN Wet-mate connectors are designed using the most advanced underwater connector technology.
How can a wet-mate connector do all this?
The secret is the connector's unique niobium contacts, which instantaneously create their own insulating anodic film when the contacts are energized and exposed to water. Niobium's self-healing properties make unmating the connector while submerged in water just as easy. The moment contacts are exposed to water, the passive film instantly restores, insulating the contacts once more.
Watch this video to see how the NiobiCONN™ wet-mate connector performs underwater!