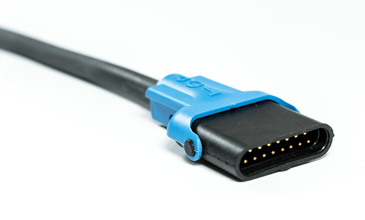 Scour the web for a reliable interconnect solutions provider, and you're sure to turn up dozens of manufacturers, each with a catalog of turnkey solutions to meet your application needs. While many product lines offer the performance and reliability to align with your specifications, there are certain situations that warrant a customized connector and cable assembly solution — especially if standard parts fail to meet the demands of an application.
Customizing a connector and cable assembly gives product teams a variety of options for how to enhance the performance of a solution. However, the benefits go far beyond performance alone.
Benefits of a Customized Connector and Cable Assembly:
Increase product aesthetics/appeal
Improve safety profile
Lower product costs
Add value and ROI
Extend shelf life
Meet unique application demands
Ensure reliability
Improve user experience
Here are just some of the many ways product teams can modify elements of a connector and cable assembly to better suit their needs or build an interconnect solution from scratch.
Customizable Connector & Cable Assembly Elements
Mechanical Features
Design details that are specific to how cables and connectors are adjoined.
Pin sequence
Keying
Locking mechanisms
Backshells
Connector Shape & Orientation
The literal shape of the connector head, which can be customized to fit into tight spaces or unique device designs.
Circular connectors
Rectangular connectors
Straight overmold
Right angle overmold
Mount Styles
How a connector and cable assembly is affixed to a device (such as a computer or appliance).
Panel mount
Free-hanging mount
Board Mount
Coupling Styles
How one connector end mechanically joins with another connector end.
Quick connect (Plastic)
Snaplock
Threaded (Metal)
Bayonet
Push-pull
Terminal Bonds
The method used to adjoin a wire to a wire or a wire to a terminal.
Wire Gauge
The diameter of the wire, which determines the amount of electricity the wire can carry safely and the amount of resistance present in an electric circuit.
10
12
14
16
18
20
22
23
24
26
28
Number of Contacts
The pins and sockets found on each connector end that fit together to complete an electrical connection.
Contact Materials
Typically a type of metal that determines the conductivity of the cable and connector and, thus, the strength of the electrical current.
Silver alloys
Gold
Platinum
Carbon
Niobium
Insulation Materials
Materials used to prevent an electrical current from coming into contact with other wires, equipment, or users.
Polyvinyl Chloride (PVC)
Polyethylene (PE)
Polypropylene (PP)
Polyurethane (PUR)
Chlorinated Polyethylene (CPE)
Nylon
Thermoplastic Rubber (TPR)
Thermoplastic Elastomers (TPE)
Overmolding Materials
Materials used in an injection molding process to permanently combine a cable and connector into one single, seamless part.
Polyvinyl Chloride (PVC)
Polypropylene (PP)
Acrylonitrile Butadiene Styrene (ABS)
Thermoplastic Rubber (TPR)
Thermoplastic Polyurethane (TPU)
Polybutylene Terephthalate (PBT)
Get the guide: Everything You Need to Know About Overmolded Cables.
Aesthetic Properties
Details that enhance the appearance, installation, and user experience of a connector and cable assembly.
Color
Ergonomics
Specialized packaging
Miniaturization
Performance Properties
Design elements that physically enhance how a connector and cable assembly performs in a specific environment or application.
Mechanical durability
Temperature extremes
Ruggedness/strength
Tamper proof
Water resistance
Chemical resistance
Limitless Design Options
Product teams have a ton of flexibility when determining the best solution for their project. In some cases, a fully customized connector and cable assembly is best. In other situations, teams can save time and money by re-engineering an existing product. Either way, the best approach is to work with a cable and connector manufacturer with in-house engineering capabilities.